Majestic Megaways™ Slot Review
Mobile and online Game review - iSoftBet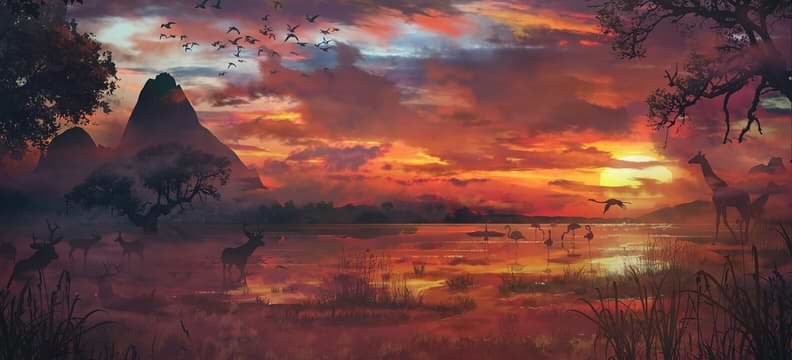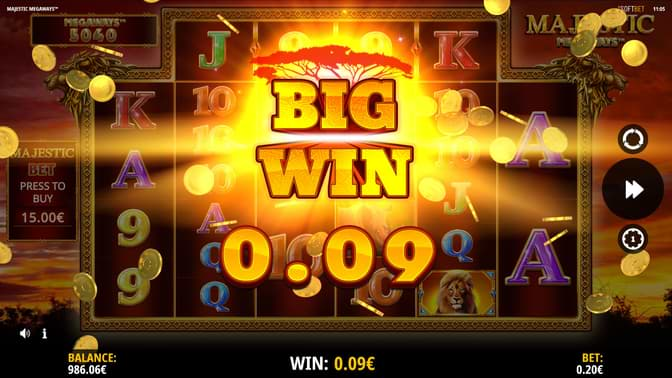 supervisor_account
23
people are currently playing this game
wallpaper

GAME TEST / Majestic Megaways
event_note Published on 07 Apr 2023
created Updated 07 Apr 2023
person By Sophie Couard

Let's not beat around the bush: Majestic Megaways™ is not their most memorable online slot game. In fact, it's quite a disappointment.
| | |
| --- | --- |
| Developer | iSoftBet |
| RTP | 96% |
| Volatility | High |
| Feature | Majestic Bet free spins |
This is the developer's second Megaways™ game, coming in the heels of their Aztec Gold Megaways™ release this past January. You may remember that I was riveted by that one, and I was genuinely impressed both by its gameplay and its design.
So it's possible that Majestic Megaways™ suffers from being unfairly compared to its predecessor. But I don't think I'm exaggerating when I say that it pales in comparison, no matter how understanding we may try to be.

Now you can try or play these amazing free slots for fun or real money!
Little more than Megaways™
As far as gameplay is concerned, there is nothing worthy of interest outside the slot's Megaways™ mechanic. At this point, I expect developers to bring something else into the mix. After all, if a game relies on the Megaways™ alone, then it's really just a Big Time Gaming slot designed by iSoftBet. If you are looking for better ones, we recommend our list of the best Megaways slots.
Majestic Megaways has a return to player (RTP) of 96% and a high volatility. Like all Megaways™, it has one horizontal reel on top of the six vertical reels, the latter of which can have anywhere from 2 to 7 rows. That means that there are anywhere between 324 and 117,649 ways to win.
To be fair, there are a couple of interesting points.
The maximum win goes as high as 20,000x your wager.
As for the free spins, it's possible to score big with an unlimited progressive wins multiplier. This means your wins start at 1x your wager and increase by 1x with every winning reaction, without a maximum limit.
Free spins are triggered by getting four diamond scatter symbols. Each base round starts with 12, but landing more scatters can increase the final amount to a maximum of 27 free spins.
Read our review of Book Of Sheba Slot from the same provider.
Majestic Bet Feature lets you buy free spins
The Majestic Bet feature allows you to buy a free spin for 75x your base bet. When you do this, the next round will yield at least four scatter symbols, triggering 12 free spins.
This is certainly interesting, but sadly, it's not especially exciting. I'm a fan of games where it's possible to land frequent bonuses to shake up the gameplay. I want to feel that I earned my bonus, not that I paid for it.
Think about it as if it were football: would you like to buy a penalty kick instead of earning it by making it deep into the penalty area only to be pushed into the ground when you're about to score? I certainly wouldn't.
And then there's another issue, which has to do with the concept itself.
Buying free spins means that they're not really free!
Design
The design also leaves much to be desired. As far as symbols go, there are colourful low-paying royals (9-A) and high-paying symbols featuring airbrushed animals. With the game being so limited at the level of mechanics, there are only three special symbols:
Diamond scatter symbol: four or more trigger free spins, while additional scatters increase the number of free spins rounds
Full moon mystery symbol: stays fixed and opens at the end of the spin to reveal an ordinary symbol
Wild symbol: replaces any symbol to increase chances of winning combinations
The game takes place against a sunset in a savannah landscape. While the sky is beautifully rendered in fiery red, orange and yellow hues, it takes up almost the whole screen. This leaves little room for the dark outlines of the African bush that mark the horizon.
As for the sound, I must say I found this to be the weakest part of the game. Both the effects and the music are overwhelmingly loud. It's as if the sound effects and the soundtrack were competing to overwhelm me from the moment the game loaded. If that was their aim, I'm sorry to say they got the job done.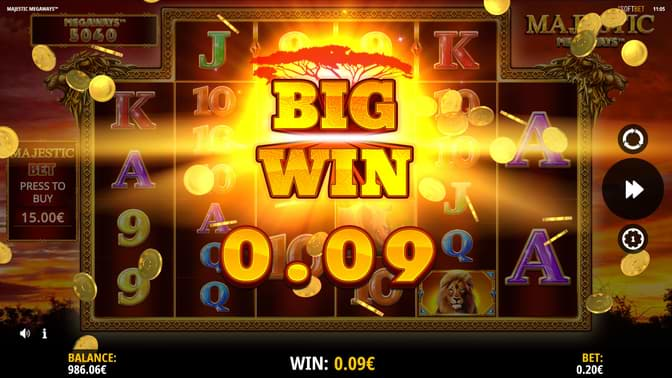 PROS
CONS

fast-paced gameplay
free spins
Majestic Bet feature

unoriginal
overwhelming sounds
expensive free spins
Read our review about Western Gold Megaways™ online slot machine from the same provider and start playing today!
feedback FAQ about online casino Majestic Megaways
keyboard_arrow_right

What is the Majestic Megaways™ RTP?

The Majestic Megaways RTP is 96%. The game has a high volatility. It can yield big wins, but it's not much fun to play. See our review for more information and find more online casino games.

keyboard_arrow_right

What is the maximum win on Majestic Megaways™?

The maximum win in the base game is 20,000x your wager. Free spins can have unlimited multipliers. Visit FeedBACK Casino for more and find bonus codes to play at online casinos.

keyboard_arrow_right

Where can you play Majestic Megaways™?

You can play a free demo of Majestic Megaways™ slot at FeedBACK Casino. Visit our review to play and see where you can play for real money at online casinos.

keyboard_arrow_right

What features does Majestic Megaways have?

Majestic Megaways has a free spins purchase feature called Majestic Bet. It also has free spins. Visit FeedBACK to find out more.

keyboard_arrow_right

What is the Majestic Bet feature in Majestic Megaways™?

The Majestic Bet feature lets you purchase free spins. See our review for more information and try a free demo before you play for real money.
Players who like Majestic Megaways also play at :