Online casinos that accept Trustly payments
Find a casino that offers Trustly as a payment method
Founded in 2008, Trustly enables instant banking deposits and withdrawals across hundreds of online casinos and e-commerce businesses. The company has grown to process 1 million transactions on a monthly basis and is available in 29 European countries, including the UK, Germany, Austria, Sweden, Norway and Finland.
The arrival of Pay N Play epitomises Trustly's mission to make online payments fast, simple and secure, transforming the way we pay and play at online casinos since 2016. Here are our TOP Trustly casino sites and everything you should know about this casino payment method.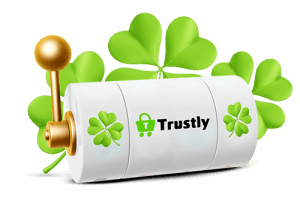 Why choose Trustly as your payment method?
So, why should you be interested in using online banking via Trustly?
Let's get straight to the point: Trustly is one of the best online payment solutions in the world.
One of the main reasons is that this is oftentimes the only method of payment if you just want to use your bank account, instead of an e-wallet or credit/debit card. And in most cases you can do so quickly on both desktop and mobile.
With the launch of Pay N Play, many casinos have also make it possible for BankID holders in countries like Sweden, Finland, Estonia and Germany to play without registration and KYC verification, while also enjoying instant withdrawals!
TOP Trustly Casinos
Here's a list of the best casino that accept Trustly, including approved sites and players' favourites, as well as the best Pay N Play casinos where you can play with no registration .
infoWhy use Trustly?
Play without delay with Pay N Play
Deposit and withdraw using personal bank account
Trusted by the industry's biggest operators
No account registration needed.
How to Use Trustly at Online Casinos (Step-by-Step)
If you've ever used online banking then sending money with Trustly is no different. Here's how it goes.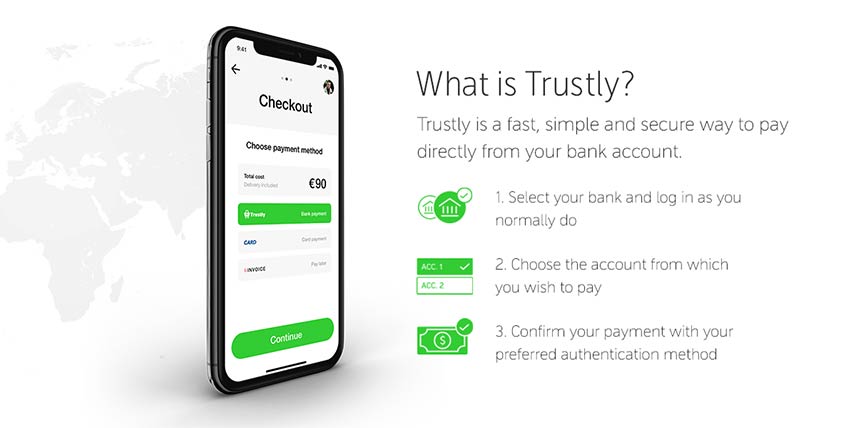 Do You Need a Trustly Account?
Trustly is not an e-wallet and therefore does not function as an e-wallet. This means that you, as a user, are not required to create any online account before you can carry out your various transactions.
This particular service simply provides means of using your existing banking details to pay for goods or services online, so there's no other accounts needed.
Making Casino Deposits with Trustly (For All Customers)
First, make sure that the casino accepts Trustly for payments and that this banking option is actually available in your country.
To top up your account, go to the cashier and select the payment method. It'll then open an API or interface where you get to choose your bank from a list and log in with your regular access codes over a secure, encrypted connection.
Choose the account from which you wish to pay and verify your purchase with your preferred authentication method, which could be a one-time code sent to you via SMS.

What is Pay N Play?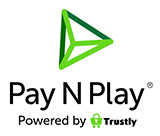 Pay N Play is one of Trustly's innovative features integrated into a casino which enables you to not only make instant deposits but also use your banking information as a means for a casino to remember you as a player, without completing any additional signup forms.
Simply put, your banking credentials become your login details and all the authentication is done in the background for a smoother gaming experience. So if you leave a casino and come back later, just hit the "Continue" button or equivalent and log in with your bank credentials to resume where you left off.
Making Withdrawals with Trustly
Trustly also makes it possible to withdraw money from a casino. Whether you use Pay N Play or log in using the more conventional ways, just visit the cashier and choose the same banking method for a cashout.
For verified casino customers, withdrawals are instantly issued back to the bank account with no additional information required!
Note that KYC verification is a standard practice in all regulated jurisdictions, so be prepared to upload additional personal details on request and allow for 2-3 banking days for the money to be fully processed and be available in your bank account.

The main problem with Trustly?
Trustly is safe, fast, reliable and affordable, but there are a few small drawbacks associated with this payment method that you should be aware of. Indeed, the list of countries covered by the option is mainly made up of European nations.
This is bad news for everyone, both the company holding the service and the consumers or potential consumers of the service. It means that not everyone who lives in one of the 30 countries covered by Trustly can use this method. Apart from that, there are no other proven drawbacks to the payment method, which is still very popular with those who have tried it so far.
feedback FAQ about Trustly
keyboard_tab

What type of fees can I expect to pay using this payment method?

Trustly casinos will charge you for the service as they please, so check with each operator directly. The good news is that Pay N Play casinos are generally free of banking charges.

keyboard_tab

How long does the deposit and withdrawal take?

Trustly claims to process players' payments quickly, building tools and features to support their claim. However, due to the bureaucratic nature of banks, withdrawals may take up to 72 hours to reach your account from the request.

keyboard_tab

Can I use it to make withdraws?

Yes, as long as the operator has this option in the cashier. Moreover, customers must use the same payout method for any transaction due to the money laundry directives and other regulations.

keyboard_tab

How much can I deposit or withdraw?

The deposit and withdrawal amount is usually limited by the casino but is oftentimes higher than popular e-wallets.

keyboard_tab

What currency can I use to pay with Trustly?

Online casinos that accept this online banking method are very likely to accept your local currency. If not, then usually there's a nominal currency conversion fee.

keyboard_tab

How safe is Trustly?

Although you will be using their system for some very sensitive banking information, Trustly is authorized and supervised by the Swedish Financial Supervisory Authority (Finansinspektionen), making it that much safer and reliable. Currently owned by Nordic Capital, the company also holds a European Payment Services Provider (PSP) license in accordance with the Payment Services Directive (PSD, 2007/64/EC). Besides, it has TÜV certification for data protection in Germany. Overall, Trustly is known to use the highest encryption standard available, on top of the banks' security system.
Pros

Bank transfers made easy
Trusted and secure service provider
Enjoy hassle-free gaming with Pay N Play casinos
Withdrawals to bank account possible (faster with Payout Express)
Accepted by many online casinos
Cons

Withdrawals can take 2-3 business days to process in some cases
Relying on Trustly's competence to safeguard your banking details
Limited to instant banking
Available in Europe only
Banking fees may apply
If you prefer to pay at an online casino with your bank for one reason or another, then Trustly is a go-to payments provider in Scandinavia and other European countries. And with the coming of Pay N Play, casino registration and slow bank withdrawals is quickly becoming a thing of the past.
It is true that the small number of countries that can benefit from Trustly's services is a real disadvantage, but the managers of this payment option make up for it quite well. Indeed, Trustly is a unique option that focuses on security and user satisfaction.
The speed of transactions is also one of the reasons why this method is becoming increasingly popular with European users. It is clear that the success of Trustly over the past few years will encourage managers to look for and find the best ways to further expand the reach of this wonderful payment option and thus reach more consumers and businesses.
Be sure to learn more about our TOP Trustly online casinos and don't forget to leave your feedback below our independent reviews as well!