How to create a player account in an online casino?
All about registering a player account at an online casino.

Before you can start playing in an online casino, you must first register a player account. We will explain the necessary steps to take in the sections below.
Registration in an online casino is free, but there are still some things to keep in mind. The registration begins with the completion of a form and is completed only after verification. In some casinos there is the possibility of registration using Pay N Play, in which the player account is automatically created with the first deposit.

Select the right online casino

If you want to play worry-free at an online casino, it is important that you take the time to methodically select from the numerous casinos out there. Avoid randomly registering in the first casino that you find! An important trait of an online casino is its reputation and that it is licensed in a reputable jurisdiction. After that, it is also important to look at the different software providers, payment methods and promotions offered. On our website you can filter on the different casinos according to your preferred criteria and also compare them using the comparison tool. We also provide detailed reviews for each casino with more information about it.
The registration step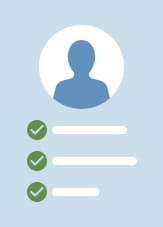 When registering at an online casino, you usually have to fill out a form on the website. In doing so, you should be careful to provide accurate information about yourself and where you live. This is because sooner or later the casino will very likely want to confirm your identity and your place of residence. If you create a username and password, you should also make a note of it. Remember to create a secure password with a combination of numbers, letters and special characters.
After submitting the registration form, the casino will either send you an email or a text message to your mobile phone for verification purposes. After verifying your e-mail address or phone number, you can sign in to your player account and make a deposit.
Registering multiple player accounts in one casino
It is not permitted to have more than one player account in an online casino. If the casino notices a duplicate player account, they will deactivate it and potentially also seize any winnings. If you have forgotten your username or password, you can contact the online casino to get it reset. The rules for duplicate user accounts relate, aside other reasons, to bonus abuse, because a bonus is available to a player and household only once. Setting up multiple player accounts to claim a bonus several times is not allowed and will not be tolerated by the casino.
A valid e-mail address is important
Most online casinos today communicate with their players via e-mail and sometimes text messages. For this reason, it is very important that you provide a valid email address when registering. This e-mail address is required for verification of player accounts as well as for communication with players. An example is for bonus promotions or other communications. There are already many casinos that verify players by text message and also send text messages to players. In any case, a reputable casino will allow you to unsubscribe from promotional messages via mobile or e-mail if you do not want to receive such messages.
Verification in an online casino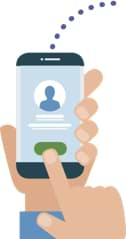 A reputable online casino is licensed by several regulators. These licensors will require online casinos to confirm the identity of their players, especially to prevent money laundering. For this reason, you will most likely need to send your identity documents to the casino, at the latest when making a withdrawal. You can also speed up the verification yourself by providing the casino, via e-mail, with your documents, such as a copy / scan of your ID card or passport and proof of address, such as a bill (electricity, water or mobile phone, not older than 1-3 months).
This verification is common in all reputable online casinos so there is no need to worry. The casinos protect your personal documents and do not pass them on to third parties. If your player account is not yet verified and you want to make a withdrawal of your winnings, this payout may take a bit long. This is because the casinos must first check your documents. Processing the payout of already verified players usually does not take very long.
The first deposit
After you successfully set up your player account, you can already make a deposit. Visit the casino deposit section and see what options are available to you, as they offer many different methods. These could include credit cards, bank transfers, electronic wallets (e-wallets), or vouchers. Depending on which method you choose, the money will then be credited within a few seconds and you can start playing almost right away. Remember that a normal bank transfer will take several days, but there are also many instant bank transfer methods where the credit takes only a few seconds.
Choose now one of our Top responsible casinos to register
1 amazing welcome bonus
1000+ games
great design
24-hour support
2 700+ games
live chat support
amazing website design
easy to use
simple account management
3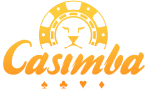 Huge catalogue of games
Extensive promotions
Reliable payment systems
24/7 support
Review summary: Register a player account
As you can see, registering in an online casino is very easy. Keep in mind that gambling is allowed only to players over the age of 18 (other countries may have different limits). Casinos absolutely do not allow minors to play. Be sure to provide correct information to make it easier and faster to verify your player account. In this way, nothing should stand in the way of playing at the casino.