Gonzo's Quest slot review, the renowned NetEnt game
Mobile and online Game review - Netent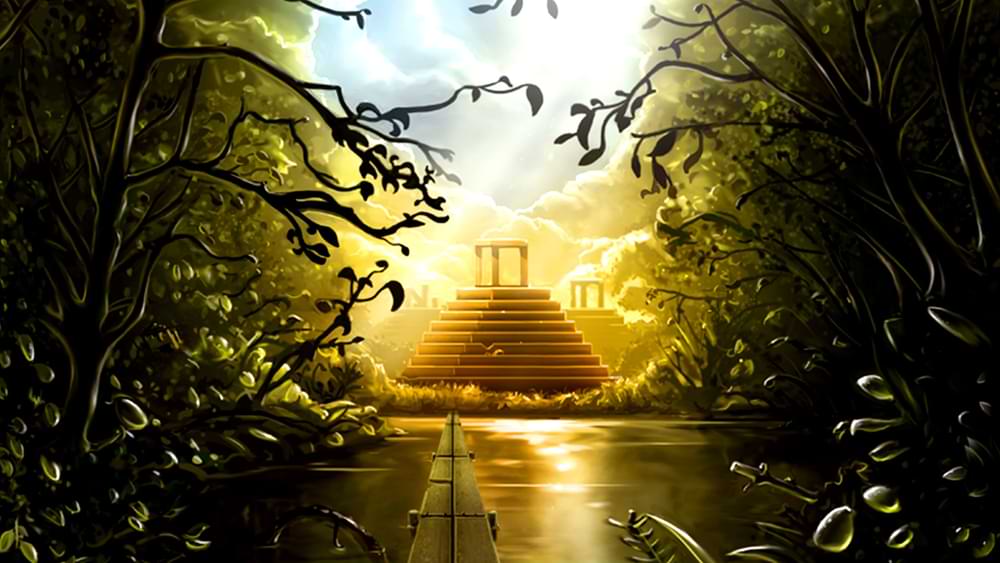 supervisor_account
2
people are currently playing this game
GAME TEST / Gonzo's Quest
event_note Published on 2022/10/11
created Updated 11 Oct 2022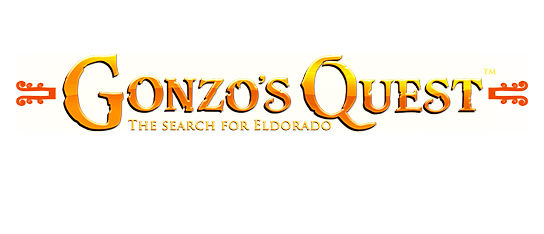 If there are movies, novels, songs, comics and video games with cult status, the same can be said about slot machines.
With this regard, it is impossible not to mention Gonzo's Quest, a game developed by the Swedish company NetEnt, one of those indestructible titles that all developers copy.
Its assets: a fun theme, a rewarding avalanche mode, a fairly simple handling and an excellent RTP/volatility ratio.
This great video slot has a prominent position in the hall of fame of the most popular online games in history. No wonder Gonzo's Quest slot is still one of our favourites!
So, what can you expect after such an introduction? This is what you will find out now in our Gonzo's Quest slot review!
Gonzo's Quest theme
Before we get into the details, let's set the scene and look at the story told by this slot.
The Gonzo's Quest slot takes you into a story that focuses on a man who ran away from a ship of explorers to find El Dorado himself. His name is Gonzo. He stole the map showing Eldorado from a ship sailing along the coast of Peru. As he goes deeper into the jungle, he finds himself in a golden city reminiscent of the Maya. This is where Gonzo's and your quest begins!
Spin the slot machine and take as many wins as possible with you! Gonzo's Quest is now well known in the online casino world and is even preparing a virtual reality version for the future.
Gonzo's Quest Avalanche Features: The more you win the greater are your chances of winning
This is probably one of the main reasons why Gonzo's Quest is such a popular slot machine. The innovative game-play mechanism is what makes this game truly great and exceptional.
A cult feature
This famous feature is none other than the famous Tumbling Reels. You can find it in many games nowadays, but when the game was developed around 2010, it was almost unique.
We can even say that it was Gonzo's Quest that made this feature popular, even though it was not the first game with this feature, the slot machine Da Vinci Diamonds from IGT used it before.
The Avalanche (Tumbling Reels) feature: how does it work?
In the game, Gonzo's Quest is no reels spinning after you click on the spin button. Instead, the symbols are falling from the top of the screen onto the fields(like an avalanche).
When you manage to get a winning combination the symbols disappear and make room for the symbols above. If there is another winning combination then, the symbols explode again.
This can go on and on. Gonzo's Quest was the first of a long history of avalanche reels games created by NetEnt.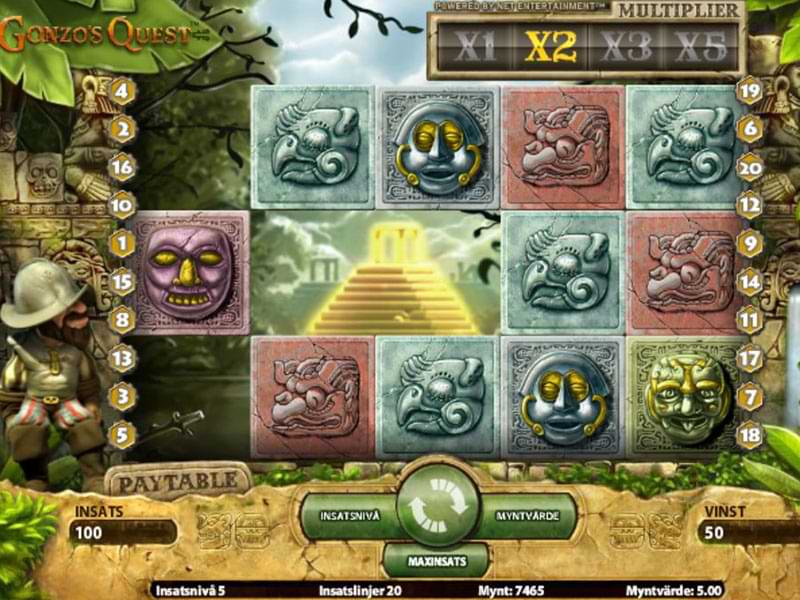 A thrilling game
The aforementioned feature means in short that you will get another chance to win money as soon as you get a winning combination.
This means that your chances to win some decent amounts get higher the more you win.
When you play the game you will be guaranteed an incredibly thrilling experience with great chances of winning.
A ladder with increasing multipliers
When you manage to get a winning combination the feelings of intense thrills get also enhanced by the multiplier scale that includes x1, x2, x3 and x5 multipliers.
Every time the symbols disappear and you move to the next level the next highest multiplier will be applied when you manage to get a winning combination in that round.
You can imagine that you can win very high amounts of money in a single game, especially when you get lucky and get more than one winning combination in one round.
I wasn't lying when I told you that you will win more every time you win. Everyone has the chance to win great amounts in this game!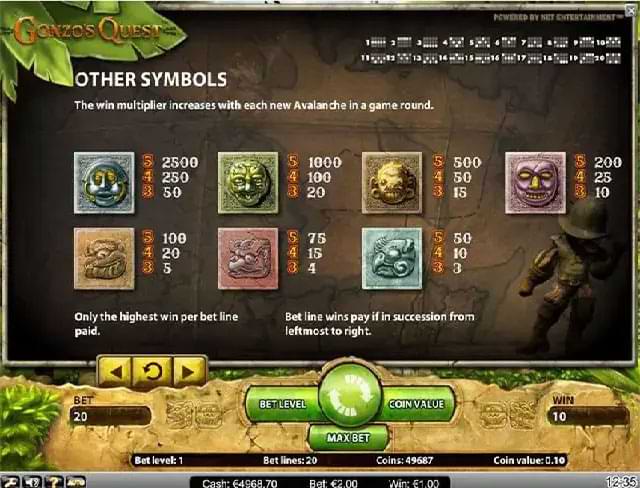 A wild symbol and free games to complete it
Netent did not just settle on one special feature in this game! The developer also included a traditional wild symbol that is represented by a question mark and stands in for other symbols.
You can also win free spins. when you manage to get 3 symbols with a golden sun you will win money and trigger 10 free spins, or more precisely free falls.
On top of that, it is also possible to win additional free games.
Gonzo's Quest 3D graphics
When the game was first released it fascinated every player in the online casinos with its graphics.
Today, elaborate graphics are often found in games, but Gonzo's Quest is still very pleasing to the eye.
It has pretty graphics and nice animation. And the little conqueror with his bad-boy attitude and wild beard is a very sympathetic character as well!
You will probably now understand better why this slot machine with the 5 reels and 20 paylines has become a big hit when it was released in 2010.
Today, the central feature of the Tumbling reels can also be found in many other games, and the 3D graphics will not impress as much as they once did, but nevertheless, the game Gonzo's Quest is not one that should be neglected.
You have to try it out and experience for yourself the thrilling magic of the game. The medium volatility (variance) also appeals to many different types of players.
The theoretical return to player rate is 96% and the maximum win is 225,000 coins. Gonzo can be very generous!
Best Casinos to play at Gonzo's Quest amazing welcome bonus
1000+ games
great design
24-hour support 700+ games
live chat support
amazing website design
easy to use
simple account management
Players who like Gonzo's Quest also play at :