Visa - Deposit Casino Methods and accepted casino
Compare casinos with payment methods Visa

The Visa card is a card issued by a bank. It can be used in over 160 countries at over 26 million sales points across the globe. It is one of the payment methods available in online casinos, and basically all online casinos offer this payment method to their members.
Online casinos accepting Visa card payments
It is very easy to find an online casino that accepts deposits with this type of credit card. However, here you can find the selection from users of FeedBACK Casino.
Advantages and disadvantages of Visa card payments
There are several advantages that speak for using a credit card. There are usually no fees for depositing, and the transaction is processed immediately. All the casinos are also using the latest technology to secure your payment and make it safe.
However, some players do not like to use this payment method, as they fear fraud and do not like that the transactions appear on their bank statement. You will also not be able to get a bonus for using an alternative payment method. E-wallets and prepaid vouchers impose lower operating costs and to the online casino operators, and they encourage players to use these methods by offering them special promotions.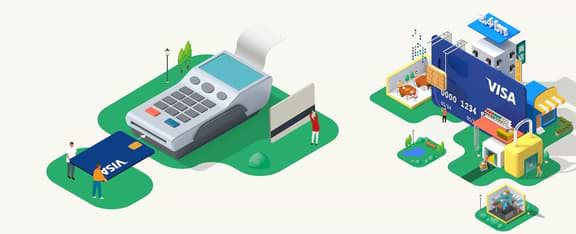 Getting a casino bonus with a Visa card
As we mentioned before, the main flaw of the Visa card is that you will not get a bonus for using an alternative payment method. However, you will still be able to enjoy other types of promotions, such as a welcome bonus, a free spins registration bonus or other offers.
Depositing money in an online casino with a Visa card
It is very easy to use the Visa card to deposit money into your player account. You just have to decide how much you want to deposit, then enter the card number from the front of the card, the three-digit CVV code from the back of the card, the expiration date and the name. Once you have confirmed your transaction, it will be processed within a few seconds.
Withdrawing winnings from your player account with a Visa card
When you withdraw money from your player account, the online casino might ask you to provide a copy of your credit card. This is normal practice to avoid credit card fraud. You can send them a copy of the card and cover certain numbers on it to protect the information, yet still confirm that you are the owner of the used card.
Alternative options to Visa card payment
Prepaid card Entropay
Entropay is a secure virtual prepaid card that is very easy to use at online casinos. It is very simple to create an e-wallet and use it to deposit money at your favourite online casino. Moreover, with Entropay, withdrawing your winnings is very fast.
Credit card American Express
If you have an American Express credit card, this is a great alternative to a Visa card.
Western Union
Western Union is one of the market leaders, however, it is not very commonly offered in the world of online casinos.