UPayCard - Deposit Casino Methods and accepted UK Casino
Compare casinos with payment methods UPayCard

UPayCard was established in 2013 in the United Kingdom and is authorised and regulated by the Financial Conduct Authority (FCA). They specialise in e-wallets, bank wire transfers, prepaid cards and crypto wallets.
Their e-wallet is both secure and instant allowing you to send and receive money to any UPayCard account holder in the world in over 20 currencies. There is also a prepaid card which can be used online as well as in store or at an ATM. This card can be either physical or virtual, contains no hidden fees, can be reloaded and used to withdraw globally online as well as in store. The crypto wallet allows you to send and receive and buy crypto currencies which can include Bitcoin, Ripple, Ethereum and Litecoin. The service is available on pc, mobile and tablet and if you're on the move then you can use an Android or iOS device. Transaction are SSL secured.

Why UPayCard?

UPayCard was founded back in 2013 and allows you to top up your account for up to €4,500 in a 24-hour period to a maximum of €20,000. You can transfer out up to €9,000 in 24 hours or €25,000 in a week, capped at 10x or 50x respectively.
The Best Online Casinos Offering UPayCard Payment Service
There a few casinos that accept UPayCard which we will be ranking, so be sure to see our results for yourself.
infoWhy use UPayCard?
UPayCard e-wallet is secure, quick and easy and available in over 20 currencies.
UPayCard prepaid card comes in a virtual or physical form, has no hidden fees and is reloadable.
How does UPayCard work?
UPayCard is an e-wallet service provider where you load money into a digital wallet and then send funds or receive funds using an email address. There is also a crypto wallet allowing you to send and receive crypto currencies including Bitcoin, Ethereum, Litecoin and Ripple. UPayCard also offers a prepaid card, physical or virtual, that is reloadable and lets you benefit from making payments globally.

Creating a UPayCard Account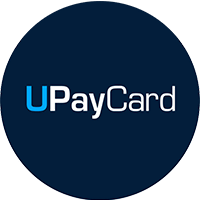 To create a UK card account, go to the orange button at the top of your screen labelled "Free Sign Up". An EEE National can receive a personal card. You start by entering your username, password, password again and email address and agree to the privacy policy and customer agreement. When done click on the orange "REGISTER" button at the bottom. From here you will be sent an email confirmation containing a link. Click on the link to confirm registration where you will be taken to the login screen once again. You will receive the second email containing a key code card. Login and enter your personal details: address, city, state or province, postal code, country, first name, middle name, last name, date of birth, mobile phone and from the pulldown menu select the currency. Click on the orange "Confirm" button when done. As you can see setting up an account is very quick and easy. You will be asked to verify your phone number and upload documents including government issued ID (front and back) and proof of address. From their you'll be asked to provide bank account details from which to top up your prepaid card as well as credit and debit card details.
Instructing a Deposit using UPayCard
Once your UPayCard account has been setup, you are already ready of making a deposit at one of the participating UPayCard casinos. You just need to go to the payments section of the casino and merely input the desired amount at the cashier, select UPayCard, fill in the fields and finish the transaction. The funds should not take longer than a couple of minutes to appear in your account.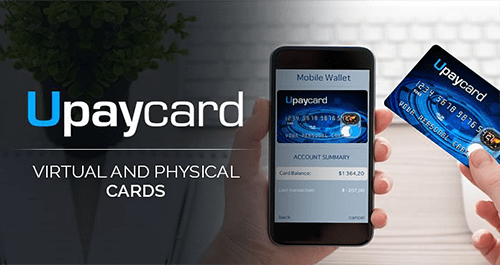 Casino withdrawal process using UPayCard
To make a withdrawal, you'll need to go to the payments section of your online casino and merely input the desired amount at the cashier, select UPayCard, and fill in the fields to complete the transaction. Like deposits, the withdrawal method is simple and fast.
feedback FAQ about online casino UPayCard
keyboard_tab

What sort of fees can I expect to pay using this payment method?

Creating a UPayCard account is free and there are no monthly fees. Sending and receiving money is also free. So how do they make their money? Well depositing funds to your account through a number of different methods will incur fees depending on your chosen method. For example, Mastercard, Maestro and Visa transfers will cost you between 1.2% to 2.9%. See the section of the UPayCard website on fees for a total list. Consider a Bank/Wire transfer to deposit funds as it is free. Making a transfer to your online player account is free.

keyboard_tab

How long do the deposits take to complete?

UpayCard is an e-wallet, similar to Neteller so making a deposit to your player account is immediate and secure.

keyboard_tab

Can I withdraw funds?

It is possible to withdraw funds using UPayCard if you used them to deposit funds originally.

keyboard_tab

How long does it take to withdraw funds?

UPayCard is an e-wallet, similar to PayPal, so making a withdrawal to your UPayCard is immediate, provided the casino has all the necessary documentation, and secure.

keyboard_tab

What happens if my currency is not supported by the casino site?

The primary currency is Euro and USD but they also allow you to setup an account in over 20 other currencies including CAD, CHF, AUD, Bitcoin, Ethereum, GBP, NOK, SEK, ZAR and DKK. This means that it is likely that the casino will support your currency.
Other related payment methods
Pros

The prepaid card can be reloaded with no hidden fees. Topping up with bank/wire transfer is free and making payments is free when using a mobile, tablet or pc.
You control the amount that you deposit to your e-wallet which is ultimately a good way of managing the amount you transfer to your player account.
Payments are anonymous, can be done in over 20 currencies and customers do not need to enter any personal information.
Depositing funds to your player account or withdrawing from your player account is free.
Cons

Adding money to your prepaid card will cost you money unless you use a wire/bank transfer.
Being relatively new, many casinos have not yet adopted this payment method.
UPayCard is an alternative to other e-wallets such Neteller or PayPal, offering free deposit and withdrawal transfers to and from player accounts. Their service is quick, simple and secure and though they are not as well known as some other methods, they show potential for becoming more widely accepted.