Tumbling Reels Slots Games by IGT - The founder of this feature
Tumbling reels slot games are fun casino games that have a feature attached to the winning combinations. Unlike regular reels, where a winning combination means you then have to spin again, tumbling reels (also known as cascading reels slots or collapsing reels), simply means that the symbols making up the win will disappear. Instead of spinning again, new symbols will fall into place and possibly give you additional wins and payouts. This feature can continue on indefinitely until no new winning combinations can be made, after which you'll simply return to the usual bet and spin.
Who is IGT?
IGT is one of the top game providers around today. Since 1990, this UK-based company provides a wealth of different casino games that all offer top-notch graphics, gameplay and bonus features. We can think, IGT following in the footsteps of NetEnt to offers a range of tumbling reels slot machines online. But it's wrong, because IGT in partnering with BluePrint was the inventor of the TUMBLING REELS Feature. if you are curious we count you the history of tumbling reels feature and you will be surprised to know what's happening.
While this feature is often known by other names, such as swooping reels or the cascading reels feature, at IGT it's strictly called the tumbling reels feature. Of Course! they invent this feature !

There are a number of top slots from IGT that you can find below.
Advantages of tumbling reels slots vs standard reels slots
The tumbling reels IGT slots feature is an exciting addition to many slot games, though it's worth noting other providers give it a different name. In contrast to standard reels, this feature actually gives you the chance to get extra payouts with no cost to yourself. When the winning combination is made, the winning symbols disappear from the reels and are replaced. On top of getting this extra opportunity to win, this feature is usually accompanied by multipliers, which often grow in size the more consecutive wins and cascading reels there are in a row.
IGT games with the cascading reels feature
Da Vinci Diamonds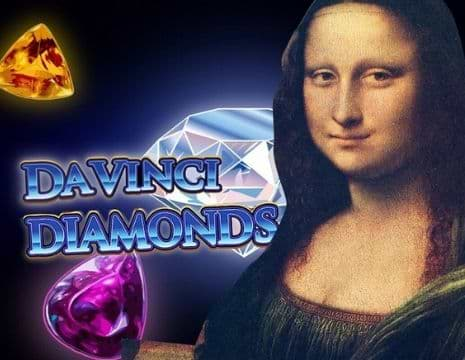 One of the most exciting IGT games that offers the tumbling reels, or more commonly called the avalanche reels, is the Da Vinci Diamonds slot. Set in the renaissance times, this low/medium-volatility slot offers plenty of fun. The slot itself is on a standard five-reel grid with just 20 paylines and an RTP of 94.94%. However, the fun starts when you trigger those bonus features. As well as having the option for the tumbling reels to boost your wins, you'll also be able to score free spins - 300 of them if you're lucky, so try it out!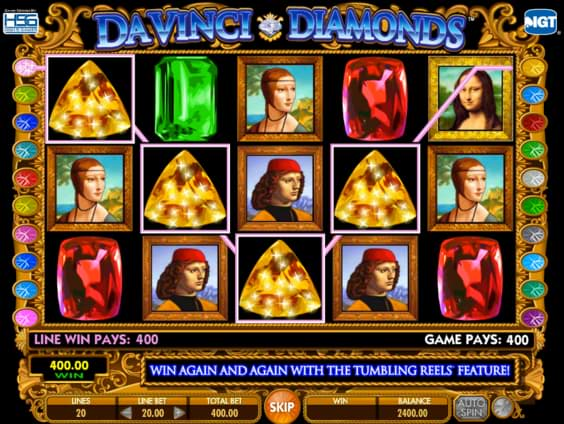 Pixies of the Forest II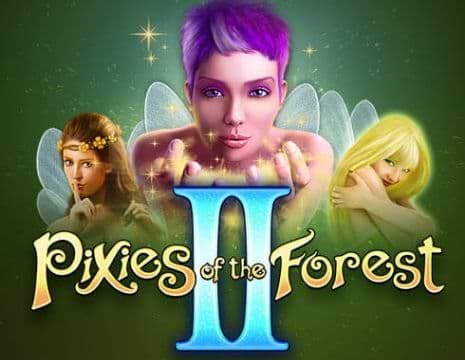 IGT's Pixies of the Forest II is an exciting upgrade of the original game with the same name. This medium-volatility slot has five reels with 99 paylines and an RTP of 98.83%! What makes this stand out from its predecessor are the tumbling reels, as well as a tonne of extras including mystery features, massive multipliers and the chance at three progressive jackpots. With so much going on, you can be sure you'll walk away having had a lot of fun and the chance to score 2000x your initial bet, so why not give it a spin?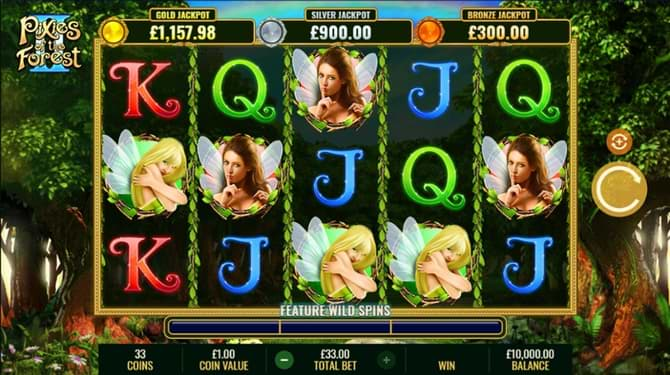 While we have outlined just two of the slot games that offer the tumbling reels, there are a whole lot more games available. Depending on the provider, this feature will come under a different name (including swooping, avalanche, and imploding) but no matter what the name is, the feature does the same thing. If you are interested in finding out about more of these slots, take a look at our top 10 best cascading reels slot games to play, which can be found at our recommended casinos for real money.
---
Related article about Cascading Reels:
? The history of Cascading reels feature
? Cascading slots VS Standard slots: What is the difference?
? 10 Cascading reels slots you must play
? Megaways™ slots with cascading reels feature
? Recommended Casino to play at cascading slots
Cascading features by games providers:
? NetEnt Avalanche reels slots
? Microgaming Rolling reels slots
? Quickspin Wooping reels slots
? Playtech Collapsing reels slots
---
feedback FAQ about IGT's tumbling reels
keyboard_arrow_right

✅ What is the tumbling reels slots feature?

The tumbling reels slot feature is an exciting in-game slot feature that gives you the chance to score extra payouts all on a single spin. In contrast to regular slot games, when you land a winning combination, the tumbling feature doesn't reset the reels and get you to spin again. Instead, the symbols that made the win will be removed from the reels with new symbols taking their place, all in the same turn. If these new symbols make another winning combination, you'll get paid for that as well.

keyboard_arrow_right

✅ What is the difference between tumbling reels slots and cascading reels slots?

While tumbling reels and cascading reels may sound like different things, in fact, they are not. These two offer the same in-game feature, enabling you to get more winning chances. There are other names for this feature too. You may see it called swooping, avalanche, rolling, and even vanishing reels. The only difference between these names is in which slot provider is offering the game, so you will just need to know which provider offers which option. No matter what though, the feature will offer the same level of excitement.

keyboard_arrow_right

✅ Is there same feature like tumbling reels slots?

As we discussed above, there are a number of features that are similar to tumbling reels. The other names for this feature are rolling reels, collapsing reels, swooping reels, and avalanche reels. All of them are the same across all slots with no difference between the various features other than the name depending of the games provider. These rolling reels features often come with multipliers that increase on every consecutive triggering of the feature, giving you the chance at some impressive wins.