Andar Bahar: The Exciting Card Game
This guide to Andar Bahar has everything you need to know about the game, like the rules, payouts, and free play options, so you can become an expert in no time.
Andar Bahar is a card game that offers equal chances to players as they attempt to predict the side where the matching card will appear. Since the game is played against the house, the payout ratios are slightly different. Nonetheless, by including side bets, it can be made more thrilling and enjoyable.
This page is also available in Hindi language.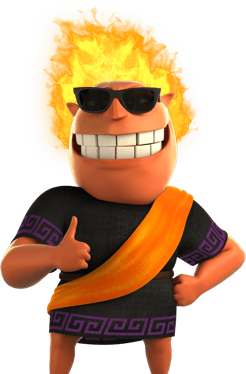 Show all Andar Bahar casinos
The basics of Andar Bahar
While it may be new to some online casinos, Andar Bahar has long been a classic game in India, its country of origin. The game was named Andar and Bahar, which means "inside" and "outside" respectively, likely because of the table setup used in the early days of the game.
In this section, we will delve into the rules and goals of Andar Bahar.
The goal of the game
In Andar Bahar, the goal is to predict which side, Andar or Bahar, will receive a card first that matches the "middle" or "joker" card.
Once the dealer places the middle card, they will alternate placing cards for each side until a card matching the rank of the middle card is dealt. The side that is guessed correctly will win the bet. Extra betting options such as the color, suit, or value of the middle card may be available in some games.
Andar Bahar Rules
Players and cards
A regular deck of 52 cards is used to play Andar Bahar, and it can be played by multiple players seated at a semi-circle table, similar to blackjack or baccarat. In a live casino, you can play alone against a live dealer or with other players, which puts you in the same conditions as in a land-based casino.
First Bet
In the event that you decide to place a side bet on the middle card in Andar Bahar, it must be made prior to the card being dealt. The bet is paid out as soon as the middle card is exposed, or at the end of the round. Keep in mind that every table has its own minimum and maximum betting limits.
Second Bet
Bets are placed on both the Andar and Bahar sides, and the dealer deals cards to each. Generally, cards are dealt to the Andar side first. But some versions of the game may decide which side goes first based on different factors, like the color of the middle card.
Game Payouts
After the middle card has been matched, players win or lose their bets depending on which side they picked. Payouts are given to players who win their main bet and any side bets placed.
How to play Andar Bahar?
Andar Bahar is a game that can be played with ease. To start, the dealer shuffles the deck before every round. Players place their wagers and the game commences. The first card dealt is the middle card, followed by the dealer dealing cards to both the Andar and Bahar spaces.
The dealer continues dealing cards to each side alternately until a card matching the rank of the middle card is revealed. Players then collect their payouts, and the next round begins.
What you need to know before you play for cash
To make your online gambling experience more exciting, you may consider playing Andar Bahar for cash.
This game involves placing real money bets, which could result in winning real rupee prizes.
You can place bets starting from as low as ₹10, and as high as ₹1,00,000, depending on your budget and preference.
Payments
The top-rated online casinos that offer Andar Bahar make it easy to manage your funds.
You can choose from a variety of reliable payment methods, including Google Pay, Paytm, and e-wallets. These options provide secure transactions for both deposits and withdrawals.
Live dealer
If you've experienced playing Andar Bahar with your friends or family during festive occasions like Holi or Diwali, you may have picked the joker card at least once.
However, in the case of live Andar Bahar online, the live dealer draws and places the joker on the table.
Live casino version or virtual
Andar Bahar is offered in two different versions at online casinos: live and virtual.
The live version features a real dealer who conducts the game in real-time, while the virtual version uses a Random Number Generator to deal the cards, with no physical dealer involved.
Play Andar Bahar in an online casino: step-by-step
To play Andar Bahar at a real money online casino, follow these steps:
Select a Reputable Casino: Choose a trusted online casino and click on the "Sign Up" or "Play Now" button. Provide your personal details and create a username and password.
Opt for a Casino Bonus: Most online casinos offer sign-up bonuses that you can use. Review the available bonuses and choose the one that works for you.
Fund Your Account: Navigate to the Deposit or Cashier section of the website and select your preferred payment method. Enter the amount you wish to deposit but be sure to keep it within the specified minimum and maximum deposit limits.
Find the Game: Visit the Table Games section of the online casino to find the Andar Bahar game. Click on the game to open it.
Understand the Game Rules, Place Your Bets, and Play: Before you start playing, take a few minutes to understand the game rules and available betting options. When you are ready to play, place your bets, and start playing for a chance to win big!
Payouts
Most games feature several side bets, but the principal wager is on Andar or Bahar. If you bet on Andar, you will win 0.9:1 or 1.9 times your stake. If you wager on Bahar, you will receive 1:1 or 2 times your stake.
In certain games, if the first card wins, both sides pay only 0.25:1, while they pay 1:1 for any other case. These odds give the house a slight edge. Additionally, side bets have different odds, such as:
| | |
| --- | --- |
| Color | 1.9:1 |
| Suit | 3.8:1 |
| Total Number of Cards Dealt | From 16.25:1 to 42.5:1 |
| Any number | 1.35:1 |
| Face card or Ace | 12.45:1 |
| Above or Below 8 | 2.05:1 (12.45:1) |
Table layout
Here is an illustration of what you might see in an Andar Bahar online game, with a traditional casino table layout featuring areas for placing side bets, as well as separate spaces for Andar and Bahar: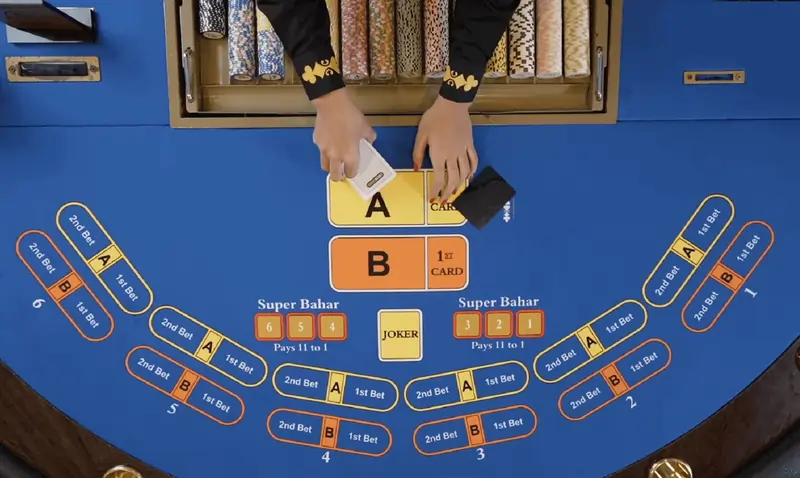 Best Andar Bahar Games
The fan base of the game is rapidly expanding in the gambling industry. Today, you can find live games at the best online casinos, which include all the supplementary side-betting options.
Different types of Andar Bahar games
Andar Bahar has various gameplay options that all revolve around correctly guessing the Andar or Bahar side. The available game variants depend on the extra bets offered.
Aside from the previously mentioned options, you may come across variations that allow you to bet on getting a straight or flush on the first three cards. There are also games where the first side dealt is decided based on the middle card, like if the middle card is red, the Bahar side gets the first card.
Free Play Demo
Experience the excitement of playing with the following demo game, which offers a taste of what the real game is like.
Although you won't be able to play for real money in this demo, you'll be able to observe the action and get a feel for the game's mechanics.
Best Online Casinos To Play Andar Bahar
The game of Andar Bahar has gained significant popularity among online casino players, and as a result, more and more online casinos are expected to feature it.
In the meantime, take a look at some of the best reputable online casinos that provide this game:
[CASINOS]
Discover the excitement of trying out new online casino games with the card game. You'll enjoy the switch of pace this game offers, and it's easy to learn, play, and win. Besides, it's a perfect choice if you enjoy using betting systems.
Add some flair to your online gambling experience with this Indian classic. Visit one of our recommended casinos and start playing Andar Bahar today to hit it big!
feedback FAQ - Andar Bahar
keyboard_tab

What is Andar Bahar?

Andar Bahar is a popular card game of chance that originated in India. It is played with a standard deck of 52 cards.

keyboard_tab

How is Andar Bahar played?

Andar Bahar is typically played with one or more players and a dealer. The dealer shuffles the deck of cards, and then deals one card face up. This card is called the "Joker" or "House card". The players then bet on which side, "Andar" or "Bahar", the matching card will appear.

keyboard_tab

Is Andar Bahar legal in India?

Yes, Andar Bahar is legal in India. It is a game of chance and falls under the category of gambling. However, the legality of the card game can vary in different states.

keyboard_tab

Can Andar Bahar be played online?

Yes, Andar Bahar can be played online. There are various online casinos and real money gaming apps and sites that offer it.

keyboard_tab

What are some tips for winning at Andar Bahar?

Try to learn the game rules and strategies, start with small bets, increase your bets slowly, and avoid trying to recover losses by making larger bets. It's also important to play responsibly and within your budget.

keyboard_tab

Is Andar Bahar a game of skill or luck?

Andar Bahar is primarily a game of luck, as the outcome of the game is determined by chance. Knowing the game rules and using specific tactics can up your chances of winning.
Pros

Simple and easy to learn
Fast-paced and exciting
Can be played with small or large bets
Payouts can be high for successful bets
Available at many online casinos
Cons

Can be addictive and lead to problem gambling
Primarily a game of chance, with limited skill involved
Limited variations and strategies
Legal status in India is complicated and varies by state
Some players may find the game too repetitive or boring