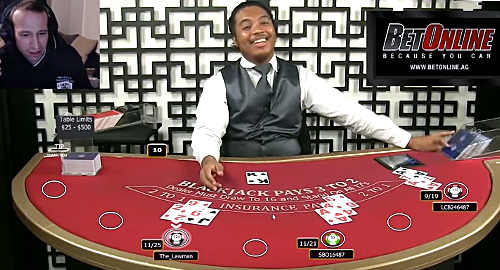 BetOnline cheaters captured on a video
By Sophie Couard
03/13/17
Michael Morgenstern does not seem to be wanting to let go of the case and in a new video published on the net, he calls the support hotline of BetOnline. Unfortunately, the response given from the support is far from being acceptable, as they claim that the whole thing happened in 2006.
However, this does not change the charges at all. It is evident that the dealer cheated, and that is what we have a problem with! Besides, it is simply impossible that it happened back in 2006, as the player was live on Youtube, and in those days in 2006 it was a lot more complicated to do than it is today! What is even more suspicious is that Michael Morgenstern was in prison until 2007, and we can clearly see in the video that he is not in a cell.
These are some poor excuses from the casino, and they absolutely warrant the claims against BetOnline.
A new affair is currently shaking up the online casino industry. After the progressive jackpots that didn't pay out in the games from Betsoft, it is now the live tables at the website BetOnline that are in the spotlight for questionable behaviour. In the following article, we will try to shed some light on what was happening in this story.
Cheating at Blackjack
The professional Blackjack player Michael Morgenstern was the one who disclosed this scandal and published proof of it online. This famous player records all his games, and when he witnessed the cheating behaviour of the dealer he posted proof of this on Youtube for everyone to watch. And of course, the community did not hesitate and quickly reacted.
Undisputed proof in the video
We must acknowledge that the content of the video is indeed very compromising. You can clearly see that the dealer is pushing up a card and deals the player the second card, dealing himself the previous card instead. This behaviour is even more unacceptable, as the dealer wins the hand, instead of the player. In this case, if the dealer had dealt out the cards in the correct order, the player would have won, and the dealer would have lost.

By
Sophie Couard
-
EDITOR
I am a great fan of gambling, I became a croupier to finance my studies. After my high school diploma in economic and social sciences , I obtained a bachelor's degree in economics and then a master in philosophy with a thesis on player behavior. After working in an online casino customer support, I became a writer on FeedBACK Casino.