UKGC Credit Card Ban for Gambling Products
By Sophie Couard
UK Gambling Commission bans credit card payments
The United Kingdom Gambling Commission (UKGC) ban on credit cards as payment for gambling products goes into effect on 14 April 2020. The UKGC credit card ban will apply to both online and offline gambling products, except non-remote lotteries. The ban seeks to prevent UK players from incurring debt in order to gamble. This is part of the UKGC's greater initiative to protect players and to foster responsible gaming in the UK.
"There is clear evidence of harm from consumers betting with money they do not have" (Helen Whately, UK Culture Minister)
The UKGC's decision to ban credit cards for online and offline gambling comes as a response to the results of two reviews by government institutions. The first is the UKGC 2019 review of online gambling. The second is the UK Government's Review of Gaming Machines and Social Responsibility Measures.
Regulation adapts to changing behaviours
According to UK Culture Minister Helen Whately, regulations must adapt to changes brought on by online gambling in the digital age. She announced a future review of the Gambling Act and the launch of a nationwide strategy to target gambling addiction in 2020.
Considering the amount of revenue generated by the gambling sector between April 2018 and March 2019, it's understandable that the UKGC would undertake measures that involve payment methods and providers of financial services such as credit cards. This graph by the BBC breaks down gambling revenue by sector: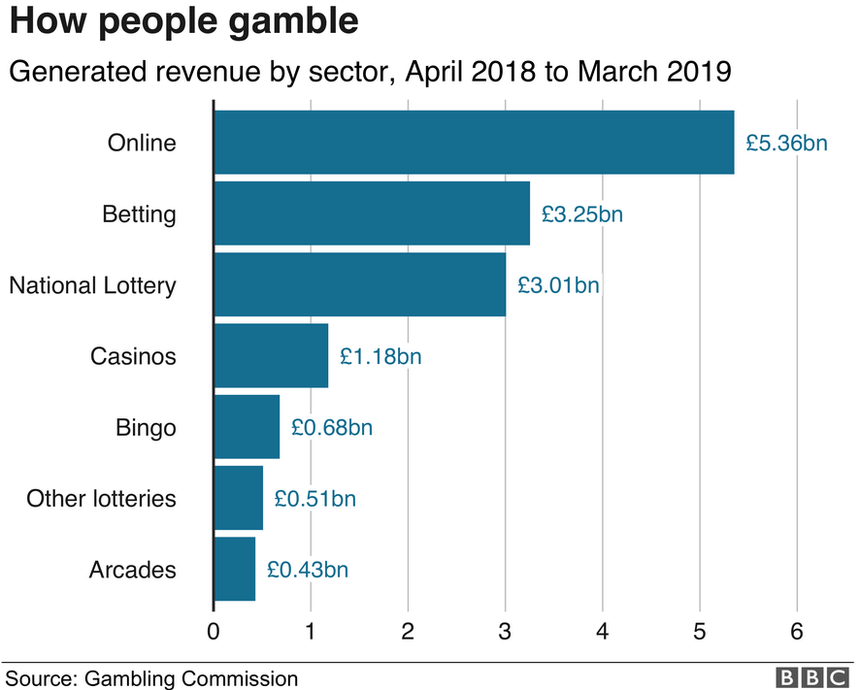 Neil McArthur, chief executive of the UKGC, suggested that the credit card ban needs to be coupled with further efforts in order to reduce gambling harm. This will involve a two-pronged approach focused on both gambling operators and the finance industry.
"The ban is part of our ongoing work to reduce gambling harm. We also need to continue the work we have been doing with gambling operators and the finance industry to ensure consumers only gamble with money they can afford to spend" (Neil McArthur, UK Gambling Commission chief executive)
UK Gambling Statistics
The research carried out by the UKGC and the government's Review of Gaming Machines and Social Responsibility Measures shed new light on gambling statistics in the United Kingdom. According to the UKGC, an estimated 24 million adults in the UK gamble, and 10.5 million (43%) gamble online.
Further research by UK Finance found that around 800,000 people used credit cards to gamble in 2018.
All of these figures include both offline and online gambling.
"Research shows that 22% of online gamblers using credit cards are problem gamblers, with even more suffering some form of gambling harm" (Neil McArthur, UKGC chief executive)
According to the UKGC, 22% of the UK's 24 million gamblers could be considered "problem gamblers". This is drawn from online research by Populus carried out in March 2019 on a population sample of 2000 adults. If the numbers from the poll can be extrapolated to the general population, then roughly 5.28 million of UK gamblers can be classed as problem gamblers.
Gambling addiction risk and resources
Gambling addiction is a public health concern just as much as it is a financial one. It's important to be aware of the risks posed by compulsive gambling. Check our in-depth article on gambling addiction. I encourage you to read it in order to become informed about the issue and the different resources available to those who need help dealing with compulsive gambling and gambling addiction.
Some signs that you or someone close to you could be at risk of harm are secretiveness, alienation, excessively defensive attitudes, lying, a tendency to chase losses and taking loans that can range from very small amounts to thousands of pounds of debt. It's important that you don't ignore any sign, no matter how small.
Never hesitate to reach out if you feel that you or someone you know needs counselling or professional help.
UKGC regulations and public health initiatives that impose restrictions on players, gambling business and the financial sector are all meant to prevent and minimise the risks of gambling addiction and to address its effects.
"In the past year we have introduced a wave of tougher measures, including cutting the maximum stake on fixed odds betting terminals, bringing in tighter age and identity checks for online gambling and expanding national specialist support through the NHS Long Term Plan" (Helen Whately, UK Culture Minister)
For starters, the NHS provides specialised health services for UK players aged 16 and over in England and Wales. There are also support groups and organisations specialised in different methods of support and counselling treatments for gambling addiction. You can reach GamCare's National Gambling Helpline by calling 080 0808 8020 133. Gamblers Anonymous UK also offers a 12-step recovery programme.
You may be familiar with some measures because they impact your online casino accounts. These include financial checks carried out by online casinos, and financial and time limits on play. These measures are meant to prevent the risks of gambling addiction, but there are other resources at your disposal. For more details about compulsive gambling behaviour, gambling addiction and resources and treatments available to you, here is a full list of organisations that help compulsive gamblers.

By
Sophie Couard
-
EDITOR
I am a great fan of gambling, I became a croupier to finance my studies. After my high school diploma in economic and social sciences , I obtained a bachelor's degree in economics and then a master in philosophy with a thesis on player behavior. After working in an online casino customer support, I became a writer on FeedBack Casino.