Top 5 of the most unusual casinos in the world
By Sophie Couard
If you've been following our blog religiously since late 2017, then you might recall that in September of that year we decided to have a little bit of fun by presenting you with what we thought were the most beautiful casinos in the world. I've had the good fortune to be able to visit many gambling establishments from all over the world, and so I thought this time round: why not provide a list of what I think are the top five most unusual casinos. Here you go!
5 - Circus Circus
Las Vegas Is it any wonder that a Las Vegas Casino finds its way onto this list? Circus Circus is certainly not the best known of casinos on the Vegas Strip, but it's owned by MGM Resorts International. So what makes this casino unusual? Well, it just so happens to be the greatest permanent big top in the world! It is home to one of the most entertaining free shows in the city. The entertainment includes the Adventuredome, which is a 5-acre indoor amusement park within the resort. It is located inside of a large pink glass dome with 25 rides that includes the Circus Circus' famous Carnival Midway. While this casino is designed to appeal to families, clearly this is not always the case, as punters can find fortune in the casino.

4 - Casino Oceanus Macau
Just as with Las Vegas, it would be difficult to compile a list without mentioning Macau. In this gambling capital of the world, I had to choose Casino Oceanus Macau as my most unusual and favourite place on the island. Interestingly, this casino, that opened in 2009, does not have a hotel in it, but over 32,000 m² of gaming area, lots of fruit and drink outlets and retail shops. This colourful casino was designed by the world-famous architect Paul Steelman, who has managed many casino projects in Macau, Arizona and Las Vegas, amongst others. The Oceanus has an interesting mosaic-look from the outside, that almost looks like fish scales.

3 - Treasury Casino Brisbane
Next we head Down Under to where I had discovered the Treasury Casino in Brisbane. The city is the capital of Australia, and the third-most populated city on the continent. It is known for its ideal climate, culture and markets - not to mention being one of the hippest cities in the country! Even the Treasury Casino Brisbane claims to be, "Colonial cool that leaves ordinary at the door". I can't argue with that! The casino itself is located in listed historic buildings. The Treasury building was completed in 1928 and the Lands Administration building in 1905. Just looking at these two wonderful buildings makes the visit worth it.

2 - Casino Partouche PleinAir in La Ciotat
Next, we find ourselves in the south of France at the Casino Partouche PleinAir in La Ciotat. The casino allows you to play on their massive 1,400m² terrace full of slot machines, outside! It's the first open-air casino in Europe, and no matter the weather, you can play any time. Marc Fary designed this casino, reminiscing of a boat, with an intricate roof system that protects players from wind and rain. There is even a blackjack table in the Jacuzzi! This is definitely one of my favourite casinos in France!

1 - Holland Casino Breda
Our last destination finds us in the south of Holland, close to the Belgian border, in the city of Breda. The casino was once a nunnery. Yes, you heard right - a convent! After that it became a place for soldiers to live, before becoming an internationally recognized casino. The historical building is a sight in itself and you can enjoy a classy atmosphere in this extraordinary casino.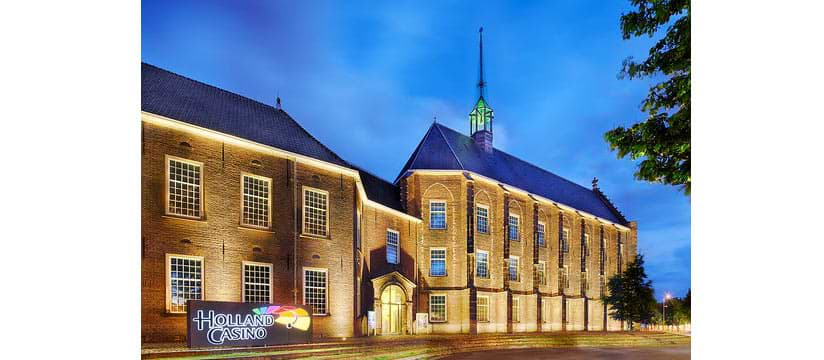 By
Sophie Couard
-
EDITOR
I am a great fan of gambling, I became a croupier to finance my studies. After my high school diploma in economic and social sciences , I obtained a bachelor's degree in economics and then a master in philosophy with a thesis on player behavior. After working in an online casino customer support, I became a writer on FeedBack Casino.