Top 5 movies and television slots
By Sophie Couard
Our top pick of the best 5 slots adapted from the movies and television.
Slot game developers are always coming up with new and exciting subject matter to entertain players. On the one hand, providers may develop games with their own themes, which often blend humor and creativity. On the other hand, there are also some providers who adapt licensed games of films or popular TV series into slot games. Here is our list of the top 5 movie and television slots.
Planet of the Apes
The series of movies from Planet of the Apes first began several decades ago and captured the imagination of fans everywhere. The developer, NetEnt has licensed the theme to create Planet of the Apes slot. The fantasy game offers an unforgettable experience on two sets of 5-reels and includes a huge selection of special features, like wild symbols, two different bonus games and free spins. Here you can experience the cinematic atmosphere of the last two Planet of the Apes movies up close.
Jurassic Park and Jurassic World
The developer Microgaming has licensed the rights to Jurassic Park and released two fantastic slot games with the fearsome dinosaurs. The slots have fantastic graphics and many interesting features such as wild symbols, free spins, random dinosaur features and bonus rounds. You're guaranteed a wild ride on your visit to this dinosaur park!
Game of Thrones
One of the most successful series, of all time, is the television show Game of Thrones. Politics, intrigue, and relationships are the focus of the characters, who leverage their alliances or turn on each other, in their fight for the prized Iron Throne. The Game of Thrones slot from Microgaming lets you fight for rewards along with your favorite house and you can play the 5 reel game with either 15 paylines or 243 way-win-lines.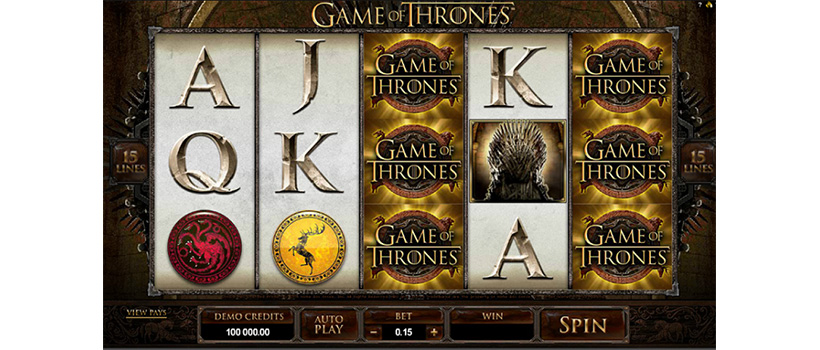 Terminator 2
We think you'll be back after playing Terminator.
The Terminator was one of the most successful films of all time when it came out in the 1980's. The sequel to the first movie exceeded all expectations. Microgaming's Terminator 2 lets you experience the action on 5 reels, with prizes of up to 88,000 coins in a single round. This is a 1024 winning ways slot that starred Arnold Schwarzenegger as the Terminator. You will find free spins, wild symbols and random features!
24
The film series 24 follows agent Jack Bauer, who has 24 hours to fight a terrorist threat. What distinguishes this series is that each episode of the series corresponds to one hour of action. The action-packed series is available on the 5-reel slot from iSoftBet and you can help save the world with Jack Bauer using wild symbols, free spins and an exciting bonus round with a bomb blast.

By
Sophie Couard
-
EDITOR
I am a great fan of gambling, I became a croupier to finance my studies. After my high school diploma in economic and social sciences , I obtained a bachelor's degree in economics and then a master in philosophy with a thesis on player behavior. After working in an online casino customer support, I became a writer on FeedBack Casino.