Mega Fortune Dreams' giving over €3,000,000 to a player
By Sophie Couard
Lucky player wins €3.3M progressive jackpot in the blink of an eye.
NetEnt is often mentioned when one talks about huge jackpots. Over time, this developer has established a name for itself as being among the most generous casino game developers on the Internet. Recently, another player, by virtue of playing a NetEnt game came away a multimillionaire overnight. This is because this lucky winner managed to trigger the progressive jackpot of Mega Fortune Dreams.
Just 2 months after the last victory
We often talk about this video slot because it has already turned players into instant millionaires. Just two months ago, a player walked away with a princely sum of €3,223,924 on October 13th, 2017. Now the jackpot has fallen once again.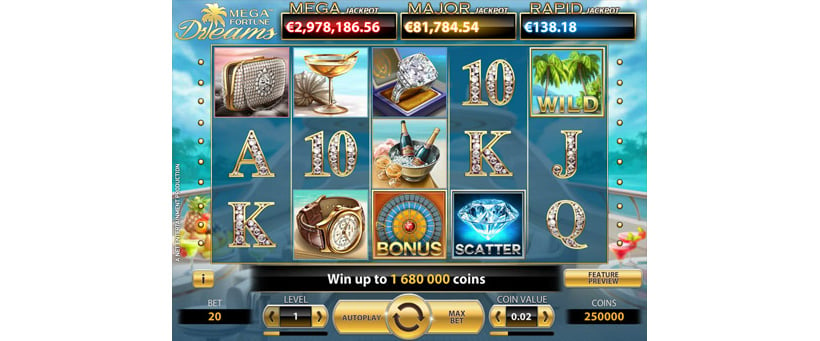 A profit of €3,349,389
A win of over €3 million is the 21st win in a series on Mega Fortune Dreams slot.
The short period of time since the previous jackpot win did not appear to discourage this latest player from trying their luck. Yesterday evening, he decided to play on the famous Mega Fortune Dreams slot by the developer NetEnt. This decision paid off handsomely as Lady Luck smiled down on him as he won the progressive jackpot worth € 3,349,389.
A total of 21 winners in all
This player is already the 21st in a series of jackpot winners with this slot. The record however still stands at €5.5 million, so incredibly his win was not even close. If you also want to try your luck at a slot game, you can find many different progressive jackpot slots in the online casinos Slots Million, Leo Vegas and Video Slots.

By
Sophie Couard
-
EDITOR
I am a great fan of gambling, I became a croupier to finance my studies. After my high school diploma in economic and social sciences , I obtained a bachelor's degree in economics and then a master in philosophy with a thesis on player behavior. After working in an online casino customer support, I became a writer on FeedBACK Casino.