In 2017, Netent pays a total of €78,3 million to winners
By Sophie Couard
NetEnt has just disclosed information on the jackpots paid out in 2017.
In our news section at FeedBACK, we often report huge jackpot wins from online slot games. These sometimes enormous progressive jackpots have already made many players' dreams come true. Recently, a report has been released by the game developer NetEnt, which puts some numbers to last year's jackpot payouts.
An overwhelming success
NetEnt's progressive jackpot slots are among the most popular games on the Internet. Even if the jackpots do not always break records, and though some are smaller than others, the developer has made a name for itself in this area. The published report shows how much money was paid in total to winners.
In 2017, a total of €78.3 million were paid out to players enjoying NetEnt slot games.
Payoffs at a higher frequency
Apart from the jackpot payout size, it is also very interesting to note that these jackpots are being won at a higher pace. Statistically, a jackpot was won almost every day of the year.
In total, 321 jackpots were paid out by NetEnt in 2017.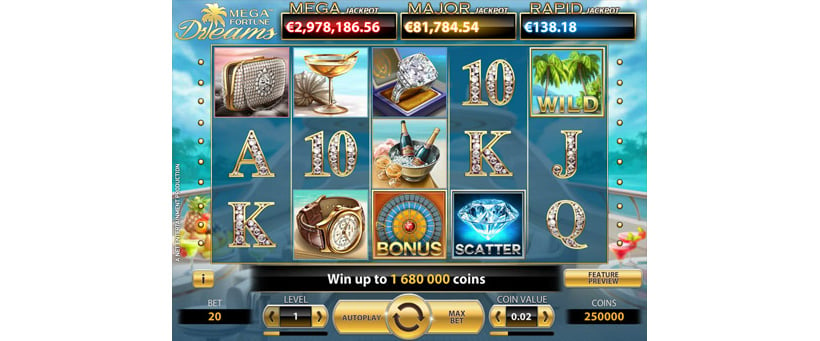 Greatest paying games from Netent
Players, overall, have won 321 jackpots worth a total of €78.3 million from Netent.
NetEnt's Mega Fortune Dreams jackpot has been by far the most generous slot game having paid out a total of €30.4 million to players. Coming in second place is Mega Fortune, followed by Arabian Nights and finally Hall of Gods.
The progressive jackpot of Hall of Gods had the single highest individual payout at €7.5 million.
If you also would like to try your luck at winning one of these massive progressive jackpots, then you can find a whole selection of jackpot slots in the online casinos Slots Million, Video Slots or Leo Vegas.

By
Sophie Couard
-
EDITOR
I am a great fan of gambling, I became a croupier to finance my studies. After my high school diploma in economic and social sciences , I obtained a bachelor's degree in economics and then a master in philosophy with a thesis on player behavior. After working in an online casino customer support, I became a writer on FeedBACK Casino.