Dress code casino: which outfit to choose when you go to play?
By Sophie Couard
The dress code of a casino is an important consideration before a visit.
If you have never been to a land-based casino, it can be quite intimidating to decide how to dress the part. Should you wear formal attire, perhaps with a suit and tie or maybe an elegant dress?
Dress casino code: the basic questions to ask yourself
While there is no hard rule, determining the dress casino code will mainly be determined by your geographic location, the time of day and the establishment itself.
Which casino are you going to play in?
Different casinos have different dress codes. Case in point, if you happen to find yourself at the Ritz Club in London, you'll need to remember that gentlemen must wear a jacket and collared shirt. The Casino Baden-Baden in Germany insists on a jacket and tie if you're a gentleman at a table game. On the other hand, many of the casinos in Las Vegas have a relaxed dress code policy providing you are dressed neatly and tastefully.
At what time of day are you going to play?
Visiting a casino in the morning or afternoon may mean a more casual dress code relative to the evening. Wearing a glitzy dress or suit and tie is more commonly tied to the evening then it is to the morning or afternoon. For example, when in Las Vegas such as MGM Grand Las Vegas, It is not advisable to wear shorts in the evening, although many casinos are relaxed about it.
What is your level as a player?
The way you dress says a lot about your personality and level of success. Your expensive jewellery, clothes and accessories will catch the eye of other players. Always aim to look your best!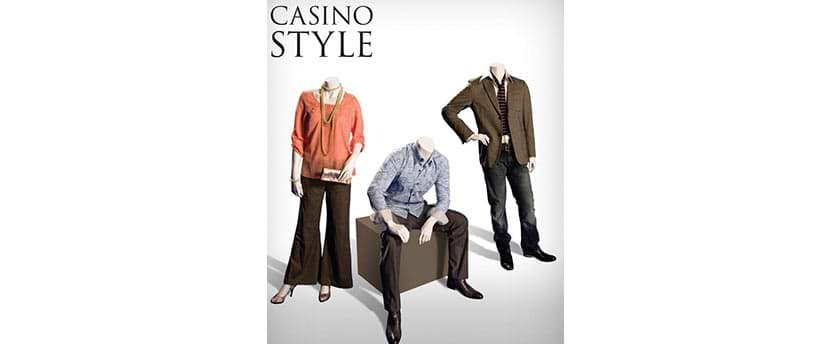 Dress casino code: tips to remember
Here are a couple of essential tips to remember about dress code casino.
Avoid over- or under-sophisticated clothing
The general rule of a relaxed style is that it does not mean trashy. Guys, forget about Hawaiian or Megadeth Tour 2019 t-shirts! This also means that you should not show up shirtless, barefoot or in sneakers. Ladies will not be required to wear long dresses and high heels, but this also means no super short skirts or cleavage that leaves little to one's imagination. Too much makeup is a no-no as well! Both sexes should also avoid flip flops, running shoes and uniforms to be safe.
You'll also want to avoid appearing in over-sophisticated clothing or clothing that is too formal if everyone else is dressed in more relaxed attire. This will make you stick out for the wrong reasons.
If you're not sure of the dress casino code and whether your clothing is too relaxed, then best not to wear it but it's probably better to slightly overdress than underdress.
Feeling comfortable
Remember that you may be at the casino for hours and standing for much of that time, so wear a comfortable pair of shoes. Tightfitting clothes for a short period may be okay, but over a few hours can be very uncomfortable and affect your casino experience.
Top 3 styles to adopt
Typically, players will choose one of three fashion styles.
Glam style
You have no doubt seen James Bond walk into a casino dressed wearing a black shawl collar tuxedo in Casino Royale. Some casinos attempt to maintain a reputation for glamour and glitz and will expect you to play the part.

If you're a woman looking to shine, then you'll want to consider a dress that sparkles. For the colours, keep red, black, silver and gold in mind. Don't forget sexy heels! Jewels, whether real or cosmetic, that sparkle are a girl's best friend.
A gentleman in a dark suit with a matching tie and shirt, such as light pink, can create a classy look. Consider cufflinks, sparkling is better, or a gold watch.
Sophisticated style
The old saying, "dress for success" will avoid you from looking like a novice. A smart watch or ring is a nice touch of sophistication. Women may want to wear a pantsuit or dress and subtle makeup. Remember that often less is more!

Whether its glamorous, sophisticated or relaxed style, it is important to look and feel right!
Relaxed style
A relaxed style means dressing a little more chic than usual but just don't overdo it by dressing sophisticated or glitzy. This means no need to wear a suit jacket or tie if you're a gentleman or a fancy dress if a lady. Just remember to keep it tasteful!

By
Sophie Couard
-
EDITOR
I am a great fan of gambling, I became a croupier to finance my studies. After my high school diploma in economic and social sciences , I obtained a bachelor's degree in economics and then a master in philosophy with a thesis on player behavior. After working in an online casino customer support, I became a writer on FeedBack Casino.