A new millionaire with Mega Fortune Dreams
By Sophie Couard
A player dropped Netent's Mega Fortune Dreams progressive jackpot on Friday, October 13,2017.
Well, this last Friday 13th of the year was definitely a lucky day! After the 331.168€ pocketed on the Divine Fortune slot machine, we learn that the Mega Fortune Dreams progressive jackpot also fell in the early hours of that famous day. Let's find out more about this very nice gain together right now.
A new millionaire with slot machines
Like Mega Moolah, who fell twice in less than 6 days with €7.7 million in winnings the first time and £1.4 million the second time, it is now the turn of Netent's famous Mega Fortune Dreams progressive jackpot to make an extra player's fortune. And this is far from being the first time, as we can see in particular from this and other news.
It's starting to sound like a routine, don't you think?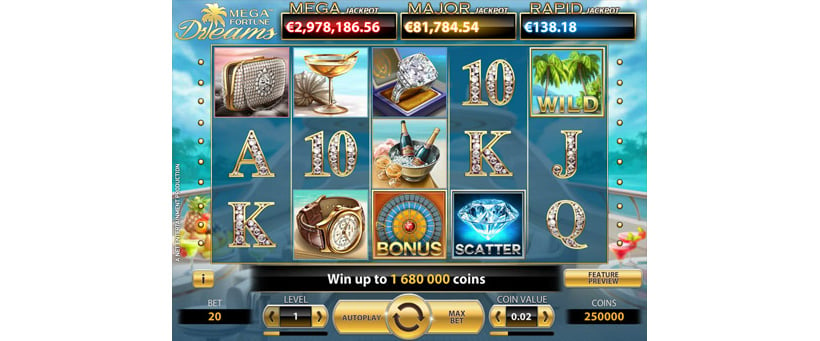 3.2 million in gains
He thus won 3.223.924€.
And what happened on the famous night of Thursday 12th to Friday 13th October? Well, a player was enjoying himself quietly on the Mega Fortune Dreams slot machine developed by the publisher Netent when he managed to win his progressive jackpot with a single bet.
He thus became rich, from one second to the next, winning 3.223.924€.
This is the 20th time this kitty has fallen since it was launched. Last week's win was just below the average of the ones offered by this video slot.

By
Sophie Couard
-
EDITOR
I am a great fan of gambling, I became a croupier to finance my studies. After my high school diploma in economic and social sciences , I obtained a bachelor's degree in economics and then a master in philosophy with a thesis on player behavior. After working in an online casino customer support, I became a writer on FeedBACK Casino.