[TUTO] How to Set Gaming Limits in an Online Casino?
Tutorial: Setting limits in an online casino
Being aware that gambling can be addictive is not enough sometimes.
If you haven't put thought to it just yet, then we recommend you read our responsible gambling guide here. One of the ways to aid your willpower is with a set of tools found at all UK-licensed online casinos.
Setting limits at casinos is not a sign of weakness but something that all smart players do, be it casual players or high rollers. The tools are free of charge and are mandated by the local gambling commission. They are easy to use and can be set up in just a matter of moments. Here are all the different ways you can manage your casino account to be a happier player in the long run.

Cutting Out Casino Newsletters
One of the simplest things you can do to reduce impulsive gambling off the casino website is just unsubscribe from the newsletters. This means you will no longer hear about any special offers, although most of the time they appear to us more important and more urgent than in reality anyway. So, every time you check your mail you will no longer be tempted to take another bait and think less about gaming in general.
But, there's nothing wrong about occasionally letting off steam at your favourite casinos, so here's a different set of tools that will come in handy.
Control the Time and Money with Casino Limits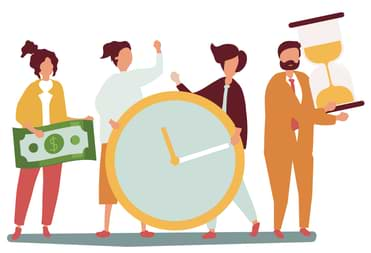 One of the most popular ways of playing responsibly is using different types of player limits. These should be available at all trusted and respected casinos, or at least are a great way of determining them.
Here are some recommended gaming limits to consider setting up and what they do:
Deposit limit: the maximum amount that can be deposited over a given period (day, week or month).
Loss limit: the maximum amount that can be lost over a given period.
Time/session limit: the maximum length of time during which you can play over a given period.
Betting/wager limit: the maximum amount you can bet over a given period.
In addition to that, consider making the most out of other features like time alerts, which can alert you periodically about the length of your gaming session or changes in your balance; as well as player history, featuring a summary of all your wagers, results, deposits, withdrawals and pending bets.
Some casinos have advanced so far as to be able to identify when things are not looking right and send you recommendations on healthier and responsible gameplay.
That said, the exact amounts and time which can be set can be usually chosen from a drop-down list or entered at your will, so there's plenty of freedom in setting it up just as you like.
So, how do you go about doing that exactly?
How to Set Gaming Limits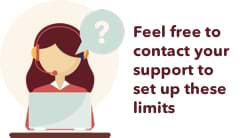 Some of the biggest and best casinos out there are well-equipped with the necessary safe-play tools which you can access right from your personal account or profile section. Just enter the numbers where applicable and hit save or enable to activate the measures.
Other casinos, however, like with document verification, have a more hands-on with this matter and will have you contact the customer support to set up the limits for you. Even if they don't promote the tools it wouldn't hurt to confirm with the customer service directly.
Review summary: Set boundaries
Hopefully you got some new ideas on how to be less inclined to jump on every new offer and set up casino limits to your advantage. It's a responsibility of each player and a way to save more fuel in the long haul. If that doesn't help either then consider taking a longer break or self-excluding yourself from a casino altogether, which you can read more about in one of our other guides in the responsible gambling series.