What are swooping reels slots games?
Swooping reels slot games also referred to as cascading reels slots, rolling reels or collapsing reels. This is a distinctive feature on a slot game that occurs when a winning combination is lined up. Every slot has different symbols displayed on the grid of the game. In most cases, when you line at least three same symbols on a payline of a slot, it results in a win. In a swooping reels slot, this is followed by an amazing effect where the symbols that form part of the winning combination explode and are replaced by new ones.
Who's Quickspin?
Quickspin is a casino game developer that was established in 2011, and it is well-known for its amazing video slot games. Games from this provider offer players an incredible winning opportunity, and they come with different amazing features. One such feature is the cascading reels feature. You can find Quickspin swooping reels slot machines online at several casinos worldwide, and they have pretty high Return to Player (RTP) rates. Additionally, you are not required to download any external application onto your device before you can play games from the developer.

Advantages of swooping reels slots vs standard reels slots
Swooping reels slot games are different from the conventional video slots. In conventional video slots, the reels of the game merely spin without any additional effects. However, with swooping reels slots, you can expect to see the symbols that are part of the winning combination explode or disappear. Once the symbols explode, they are replaced by new ones and you will get a chance to win a payout all over again. This Quickspin slots feature is the same whether you are playing the game on your desktop computer or mobile device.
Quickspin's games with cascading reels feature
Big Bad Wolf Slot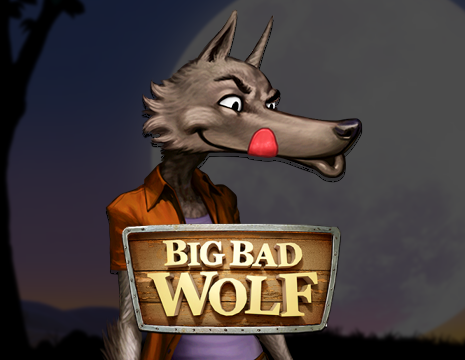 Big Bad Wolf is an online slot based on the tale of the Three Little Pigs. It features five reels and 25 fixed paylines. You can play the game with a minimum of 0.25 coins up to a maximum of 100 coins per spin. As with other Quickspin games, you can hope to make huge winnings of up to 1,268x your initial wager. The game comes with avalanche reels and you can find it in our recommended casinos. Big Bad Wolf Slot has an RTP of 97.31% and is categorised as a high volatility game.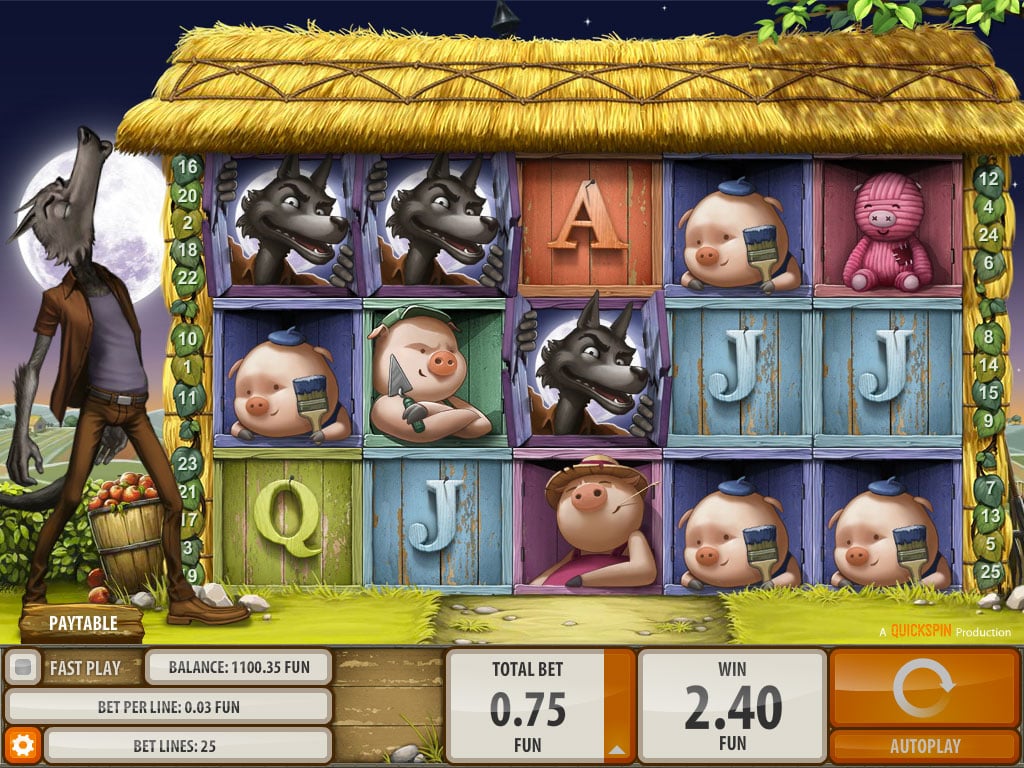 Golden Glyph Slot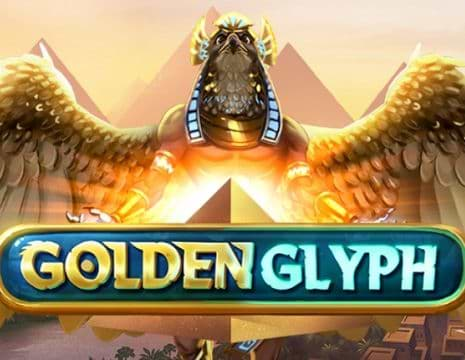 Another amazing slot from Quickspin with the cascading feature is the Golden Glyph video slot game. The game was released in November 2019 and has grown to become one of the favourite slots for many casino players. It features a 7x7 grid with different kinds of symbols populating the reels of the game. The game has an ancient Egyptian theme, and it comes with awesome bonus features such as the Power Wild Win and Power-Ups. Golden Glyph slot offers a return to player rate of 96.19% and is a medium volatility game.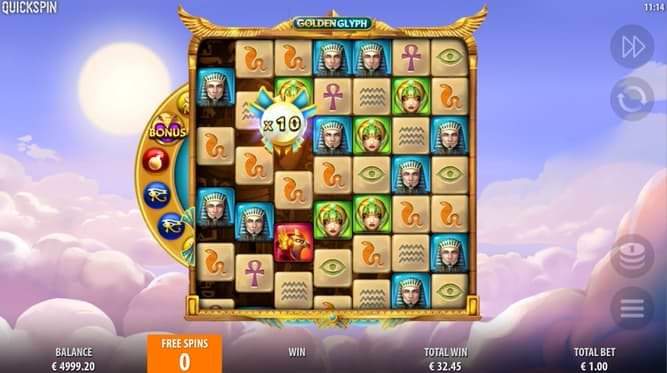 Besides the Big Bad Wolf and Golden Glyph video slots, Quickspin also offers several other tumbling reels slots. You can check out the top 10 best cascading reels slot games to play on our website. These games come with a flexible betting limit, making them a good choice for different calibres of players. In addition to that, they come with a variety of incredible in-game bonus features, which can lead to awesome wins and make it more interesting to play. You can play these slots for real money at our recommended casinos.
---
Related article about Cascading Reels:
📑 The history of Cascading reels feature
📑 Cascading slots VS Standard slots: What is the difference?
📑 10 Cascading reels slots you must play
📑 Megaways™ slots with cascading reels feature
📑 Recommended Casino to play at cascading slots
Cascading features by games providers:
📑 NetEnt Avalanche reels slots
📑 Microgaming Rolling reels slots
📑 Playtech Collapsing reels slots
---
feedback FAQ about Quickspin's swooping reels slots
keyboard_arrow_right

✅ What is the swooping reels slots feature?

The swooping reels slots feature is triggered in some slot games when you line up a win. It is a feature whereby the symbols that are part of the winning combination explode, or vanish automatically, and are replaced by a new set of symbols. This swooping feature makes the game more interesting to play as it enhances the visuals and also gives players a chance to increase their winning opportunities. Whether you are playing on your desktop computer, smartphone, or tablet PC, the tumbling reels feature is the same.

keyboard_arrow_right

✅ What is the difference between swooping reels slots and cascading reels slots?

There is no difference between swooping reels slot games and cascading slots. Both features are the same; they simply have different names. However, depending on the particular slot game, the feature may involve the winning symbols either exploding or just vanishing. Some online slots with these features may have a free-fall mode, where new symbols fall in from the reels above to replace them. For other slots, this can be in a zig-zag form. Nevertheless, the way swooping reels and cascading reels feature work is the same.

keyboard_arrow_right

✅ Are there similar features to swooping reels slots?

Swooping reels are found only in Quickspin games, as it is a brand name owned by the developer. However, other similar features come with different names. Each game developer has their specific name for the feature, such as rolling reels, collapsing reels, tumbling reels and avalanche reels. You need to know, however, that some providers may require you to install a Flashplayer application on your device before you are allowed to play cascading reels slot games. You can read reviews about these different slots on our website.