How to play Blackjack: the basic rules
A guide to learn the blackjack card games rules

Learn how to play blackjack, a casino game in which, in order to beat the dealer, you must score as close to 21 as possible without going over.
If you are a fan of casino games, you will definitely enjoy playing blackjack. In this article we will look at what this game is all about, what the rules are and how to increase your chances of winning. It is a simple game in its dynamics, but requires some practice to gain confidence and skill. Play online blackjack from the comfort of your own home.
How to play blackjack tutorial
Playing blackjack is simple, but we know that it can be a little tricky at first. Below, you can access a handy tutorial that will show you everything you need to quickly learn this popular game. There are numerous online casinos that offer the possibility to play blackjack games online. You can access them to play a few hands and even practice in a demo version.
The objective is simple: beat the dealer!
The objective of blackjack is to beat the dealer. To do this, your hand must be higher than the dealer's hand, but no higher than 21 points. If the dealer busts, you win the hand no matter what your score is. To practice and learn its dynamics, you can start by playing free blackjack.
Learn the value of cards
To determine the value of your hand, you need to add up the value of each individual card, that have values of:
10s, jacks, kings and queens are worth 10 points
Aces are worth 1 or 11, depending on the hand
Cards from 2 to 10 retain their value.
Initial deal
The game begins when the dealer invites the players to place their bets. The dealer then begins with the initial deal of cards, which is spread out on the table. The players receive two cards and the dealer one card, all face up. It is then time for each player to consider what move to make: hit, stand, split, surrender…
This is also the second and final opportunity to place bets, as here players can choose to double their initial bet if they think their hand is good and has a chance of beating the dealer.
The blackjack hands
Depending on the card values, you can get different types of hands in a game. These are:
a natural blackjack that consists of only two cards and has a total value of 21 points. this is the strongest hand in a game. You will immediately win against the dealer and also receive a special payout of 3:2,
a hard hand that consists of a hand with an ace, and it can only count as 1 point, as it would go over 21 points otherwise,
a soft hand that consists of a hand with an ace that can count either 1 or 11 points without the risk of exceeding 21 points,
a pair that consists of two of the same cards.
Player Options
Once the cards have been dealt on the table, each player chooses whether to call for more or stand with the cards they have. He may also decide to split his hand, in the event that these first two cards are the same, or to double down. The player who decides to double down (a bet of the same amount as the initial bet), receives an additional card.
This is the crucial moment when you have to think carefully about what decision to make. Remember that if your hand exceeds 21 points, you lose. But don't worry, you're in for a very dynamic game and you'll have a new chance every round.
A blackjack game begins with the distribution of two cards. You can then choose from different game options:
hit, where you draw one or more cards,
stand, where you signal not to draw any more cards.
Depending on the cards of your first hand you also have the following additional options:
doubling your stake (double), where you receive one more card and then stand,
splitting a pair (split), where each hand is then played separately,
take out insurance (insurance), where you pay for an insurance against a blackjack of the dealer.
In any case, you should not take out the insurance in a game. Statistically, the insurance is always in favour of the bank.
Confront the dealer by knowing the detailed rules of blackjack. Don't forget to check out the online blackjack rules for experienced players.
The dealer's hand is revealed
Once all the cards have been dealt and the players have decided which cards to keep, the dealer plays his hand. Players who have scored lower than the dealer and players who have gone over 21 lose. Players who tie with the dealer get their bet back.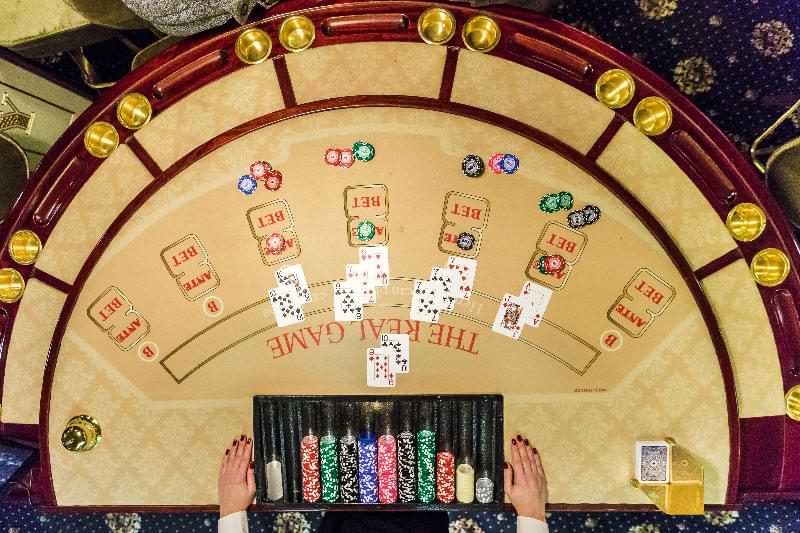 If the dealer goes over 21, all players at the table win. Players who have drawn blackjack (i.e. an ace plus a 10 or a figure) are paid 3:2. On the other hand, those who beat the dealer are paid 1:1, depending on their bet.
Start winning
The secret is not to go over 21. Therefore, during the game, you should analyse the cards that you and the other players have been dealt. From these cards, you will be able to deduce whether you should hit or stand.
Paying out your bets
Of course, playing blackjack is a lot of fun, but you probably want to win money too. That's why it's important to know how each bet pays. Players who beat the dealer's hand receive a 1:1 payout. If their hand exceeds 21 points, they automatically lose.
When a player splits or doubles his hand, the bet is also doubled and thus the potential winnings are doubled. When you get a blackjack (the sum of an ace plus a 10 or a figure), the payout is 3:2. It is good to familiarize yourself with these payouts and the other important information about blackjack.
Go further: become a pro
Although, as we have seen, blackjack is a fairly simple game in its dynamics, you should not underestimate it. You must know its rules in detail and do not forget that each mode has some variations. It is not easy to face a trained and experienced dealer. That's why you have to learn all the tricks and practice a lot.
Once you get the hang of it, you'll find that your games will become more exciting and your chances of winning will increase. Don't miss our 10 tips for having fun playing blackjack. Remember that fun goes hand in hand with responsible gambling.
Blackjack is one of the most skillful casino games. Be sure to read our tutorial to learn its rules and how to play it. While chance plays a very important role, there are different strategies that can help you maximize your chances of winning.
The ones that have gained the most popularity over time are the basic strategy, you can easily find basic strategy charts, and other more complicated strategies such as blackjack card counting. The latter requires a lot of practice and a cool head, but it can be mastered.
feedback FAQ about How to play blackjack: the basic rules
keyboard_arrow_right

What is blackjack?

Blackjack is a popular casino game in which the objective of players is to beat the dealer. To do so, they must add up a score as close to 21 as possible, while avoiding going over.

keyboard_arrow_right

How do you play blackjack?

It starts with an initial bet. The dealer then deals cards to himself and to the players, who can hit, stand, split, double their bets or call insurance before the dealer's hand is revealed.

keyboard_arrow_right

Can I play blackjack for free?

Yes, many online casinos offer the possibility to play blackjack without having to risk real money through demo versions or no deposit bonuses.

keyboard_arrow_right

How to play blackjack for real money?

Of course, at all land-based casinos. But if you don't want to leave your home, you can play from your mobile device by opening an account at one of the many online casinos around the world.