Virtual Racebook 3D - Chuck review
Mobile and online Game review - Betsoft
supervisor_account
32
people are currently playing this game
fullscreen Full screen
wallpaper

GAME TEST / Virtual Racebook 3D
event_note Published on 07 Apr 2023
created Updated 07 Apr 2023
person By Sophie Couard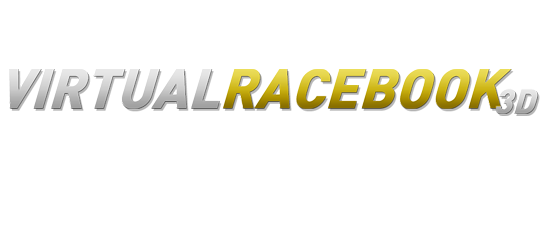 Betsoft is a well-known developer. They are most famous for their great selection of 3D slot machines.
However, their talent is also noticeable in other areas. for example, they also developed a very good game with virtual horse racing where you can also enjoy their expertise in creating three-dimensional graphics.
But even if the game has a beautiful design, does the Virtual Racebook 3D also have the fantastic gameplay that you would expect? This is what we will discover together right away.
If you like online casino games, we have a whole bunch of slot machines for you! Take a peek, you're sure to find something to suit your taste!
Easily accessible controls
At the beginning of a game, you must choose which horse you want to bet. You can bet from 1 to 100 coins by using the + and - buttons for each round. It is also possible to select several horses in a single race.
To help you make your bet, you can access the odds and statistics of previous outcomes of several races and competitors.
Once you are satisfied with your bet size, you can start the race by clicking on the Begin Race button.
A carefully designed and immersive atmosphere
The developer Betsoft uses a special compression technology that allows you to enjoy stunning 3D graphics. The races are very realistic, especially as they are also accompanied by television broadcasts of the horse races.
The game is very immersive, and you can enjoy the authentic atmosphere of the racetrack and the thrills it offers.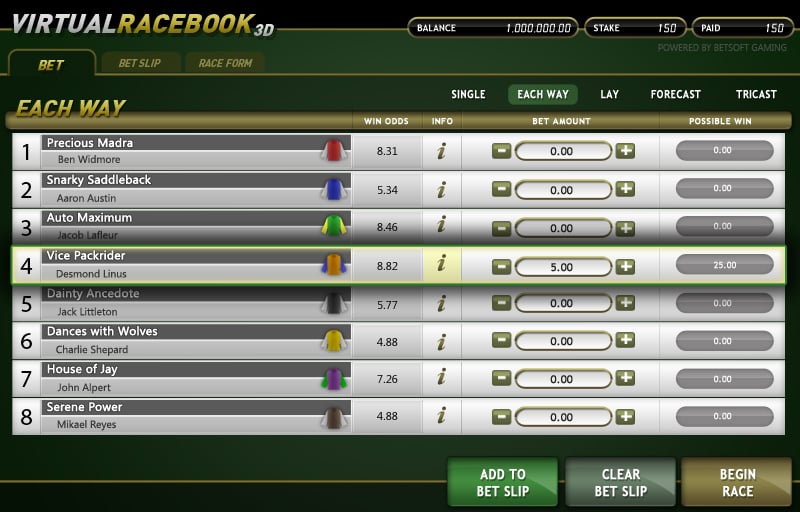 Do you like the casino games developed by the Betsoft software? Come and try the Weekend in Vegas slot machine
Betsoft proves once again their visual talent with the Virtual Racebook 3D game. It is very well thought through and immersive, and the game will surely make fans of this genre very happy.
This is a game that you should try out as soon as possible - it is a good chance to a slot.
Players who like Virtual Racebook 3D also play at :