Spinfinity Man - Slots review
Mobile and online Game review - Betsoft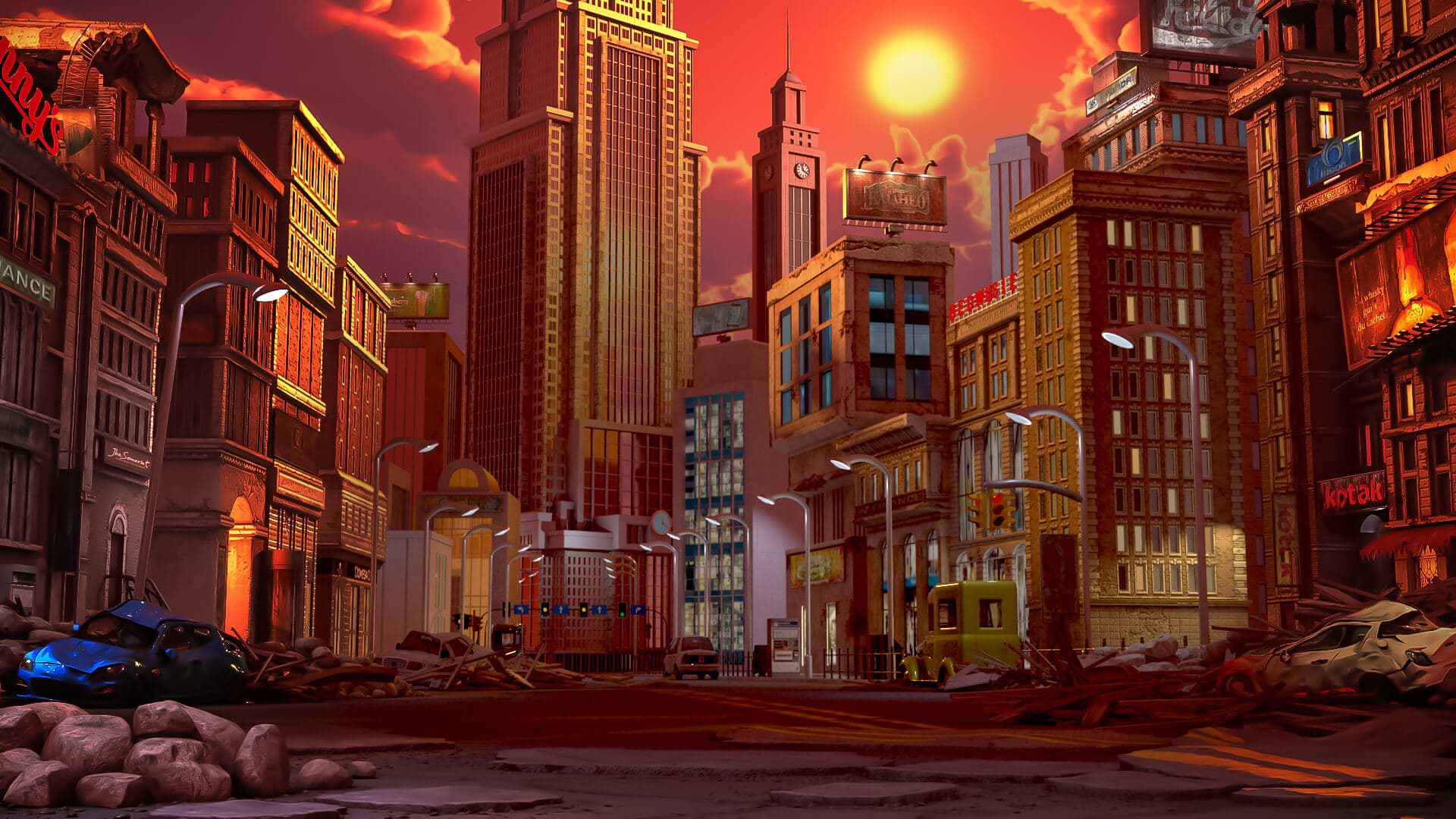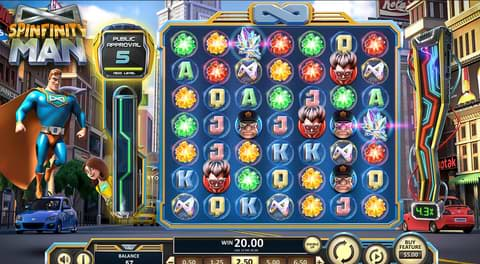 supervisor_account
23
people are currently playing this game
wallpaper

GAME TEST / Spinfinity Man
event_note Published on 07 Apr 2023
created Updated 07 Apr 2023
person By Sophie Couard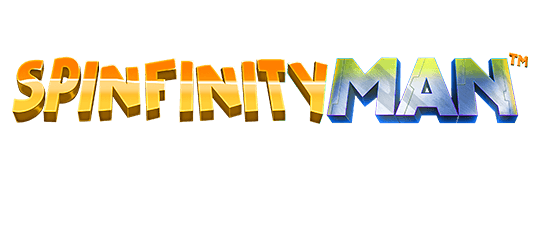 Spinfinity Man is a 7x7 grid cluster pays slot based on a superhero theme.
In a golden age of superheroes, the city of Metropolis is plagued by crime and calls out for a hero. Spinfinity Man answers the call in this 7×7 grid slot with a maximum win of 5,038x!
If you like online casino games, we have a whole bunch of slot machines for you! Take a peek, you're sure to find something to suit your taste!
Cartoon style artwork
The artwork in the slot looks like something similar to a comic book. The reels are surrounded by a street view with a hovering Spinfinity Man to the left of the reels. The slot features the high-value crystal symbol, three smaller mid-value crystals and the K, Q, J and A royal flush poker symbols.
The audio effects match the epic theme. The cascading symbols sound like beads and there is the sound of laser fire and some humorous elements like a giggling girl fan who manages to take a snapshot of the posing superhero from out of nowhere.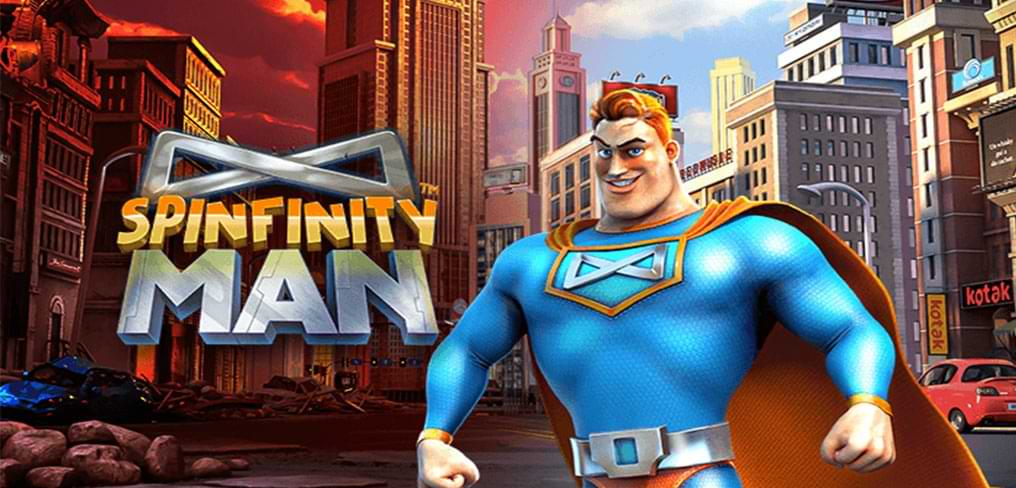 Do you like the casino games developed by the Betsoft software? Come and test the amazing Max Quest : Wrath of Ra slot machine
Cluster Pays
This slot is a cluster pays game where the 7x7 grid cascades downwards rather than spins.
A win is created with four symbols adjacent horizontally or vertically to one another.
A winning cluster explodes giving rise to a cascade in which the blank spaces are then filled with new symbols for the chance to create another winning cluster.
During the cascade, there is no wager requirement and the cascade will continue provided you continue to form additional winning clusters.
Superpower Combos
When the caped superhero Spinfinity Man appears as a 2×2 sized symbol, he unleashes one of five superpower features.
The first is his laser eye beam with the power to melt away either two columns or two rows. Next, his double laser eye beam has the power to melt away both two columns and two rows. Third, his icy blast has the ability to shatter a small cluster of symbols.
Conversely, his double ice blast has the power to shatter a large symbol. Finally, the superhero can use telepathy to remove all instances of a unique symbol from the reels.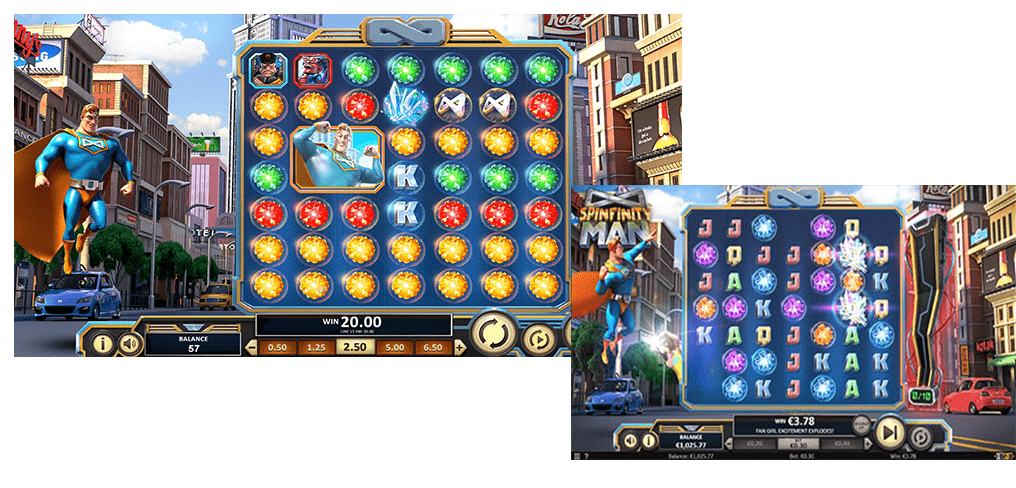 Fan Girl Fame
It is loaded with exciting features and beautiful artwork.
The fangirl is easily excitable and gets even more so after each cluster explosion. If you manage to explode at least six clusters on a spin, the fangirl feature is triggered. Here a number of symbols randomly explode to award a prize.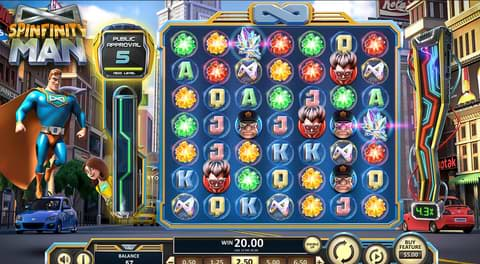 Catch Mr X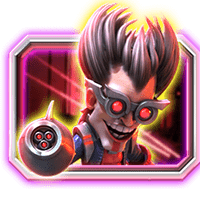 Of course, no superhero is complete without the supervillain. Here that role is played by Mr X. When he appears on one of the even-numbered reels, a villain trail to the right of the reels advances. By completing the villain trail, the free spins bonus round is triggered.
This awards 10 free spins played under an alternate background of the burning city. During the free spins, the Spinfinity Man symbols are replaced by Mr X who unleashes super combos. Each Mr X symbol that appears adds one additional free spin. The nemesis Mr X also possesses unique powers which come in the form of one of five features.
First, the laser arm cannon has the power to melt away either two columns or two rows. Next, his super arm cannon has the power to melt away both two columns and two rows. The destruction bomb will detonate a small cluster of symbols while the devastation bomb will detonate a large cluster of symbols.
Finally, the x-ray will disintegrate all instances of a unique symbol from the reels.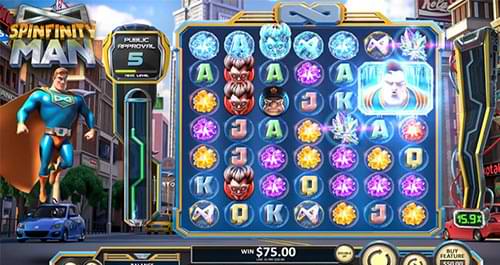 Super wild
The super wild symbol has the power to create even larger clusters by acting as a joker to replace all symbols other than our hero or villain.
Double Up Game
The slot has a high volatility with an RTP of 95.8%.
Finally, the last feature is the Double Up Game which gives you the opportunity to gamble all or half of your winnings, if you so choose, for a chance at double or nothing.
You simply need to correctly predict the outcome of a heads or tails coin spin.
Strengths:
based on an exciting superhero theme
comes with beautiful artwork and epic audio effects
comes loaded with superpower features
has higher volatility for potentially larger payouts

Are you still looking for new online casino games? We have the right slots for you! Visit the savannahs of Africa with the Stampede slot
Metropolis' last hope!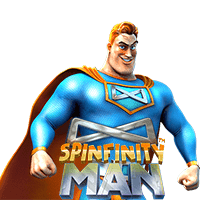 Spinfinity Man slot has an RTP of 95.8% and can be played with a range of wagers starting from €0.10 to €6.
This is a higher volatility game, so you will very likely need a higher bankroll to play it long enough for a crack at a larger win.
This June 2019 release comes packed with heroic features, an epic soundtrack and artwork.
To get started, visit one of our recommended casinos today!
Players who like Spinfinity Man also play at :