Pai Gow Poker - Slots review
Mobile and online Game review - Play'n Go
supervisor_account
2
people are currently playing this game
fullscreen Full screen
wallpaper

GAME TEST / Pai Gow Poker
event_note Published on 07 Apr 2023
created Updated 07 Apr 2023
person By Sophie Couard


Pai Gow Poker from Play'n Go is an alternate version of poker that is less fast paced than other forms of poker and is based on a 53 card deck.
The game presents a 3-D green poker table prompting you to place your bet. You have the option of choosing amongst €1, €5, €10, €25 and €100 tokens. Click on the token and click on the Bet circle to place it. You can remove the bet by selecting the 'x chip' followed by the chip you want to remove. Once you've done that then click on the Deal button in the centre bottom of the screen. This presents you with 7 cards that you must make two poker hands out of. A joker acts as both an ace or to complete a straight, flush or a straight flush. Click on the House Way button and then the Play button. This separates the cards into the high hand consisting of 5 cards and the 2 remaining cards that will be the second high hand. In order to win, both of your hands must beat the dealer's hands in which case you win 1:1 on the ante bet less 5% house fee. Conversely to lose, both your hands must be beaten by the dealer's hand so that you lose your ante bet. If only one of your hands beat the dealer's then the game is a push and your ante is returned.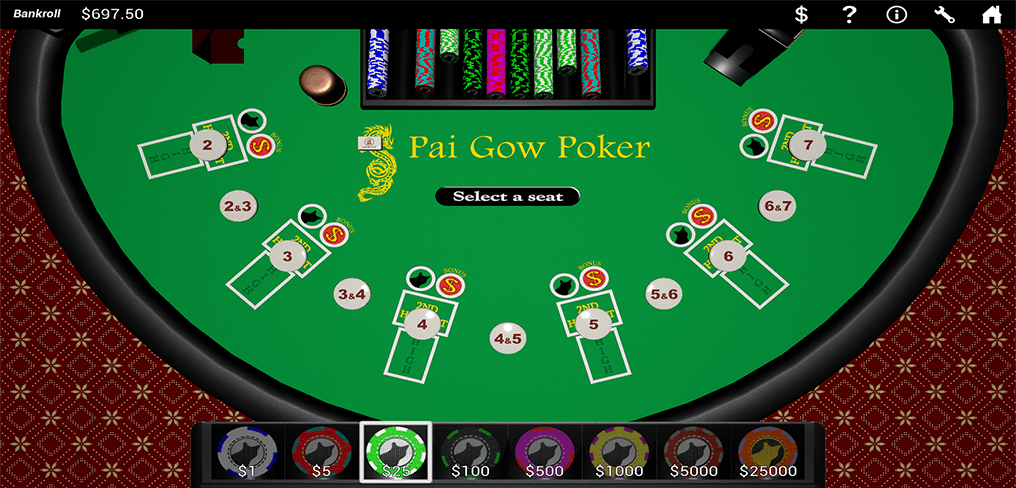 Pai Gow Poker slot is well designed and simple to play, with a dealer voice complimenting the realism of the 3-D to help enhance the experience. While it will not take you long to get the hang of it, you can try playing it for free a few times to see if you enjoy it before playing for real money.
Prosperity Palace is a fun and entertaining online slot game. We encourage you to read our review, now!
European Blackjack is a free-to-play online table game that you won't want to miss!
Players who like Pai Gow Poker also play at :