Marching Legions Slot Review
Mobile and online Game review - Relax Gaming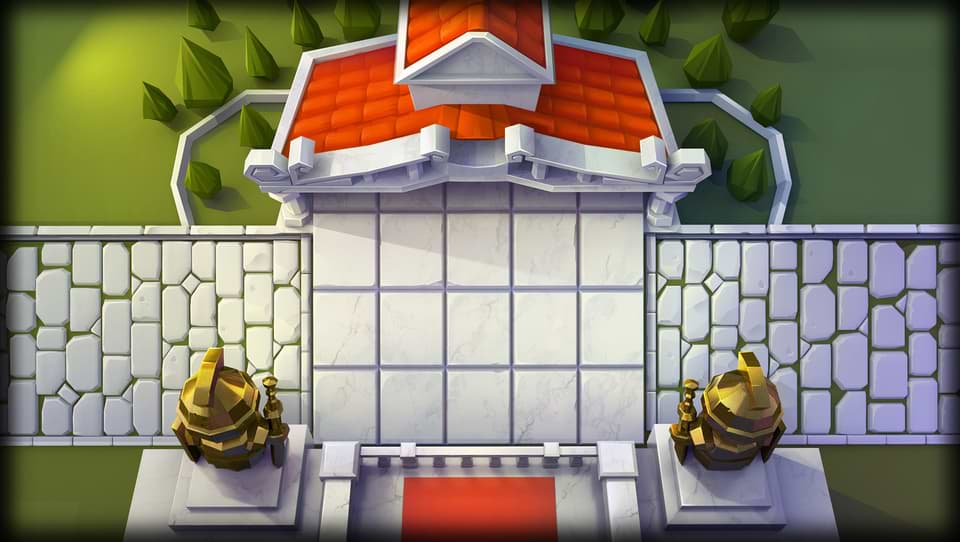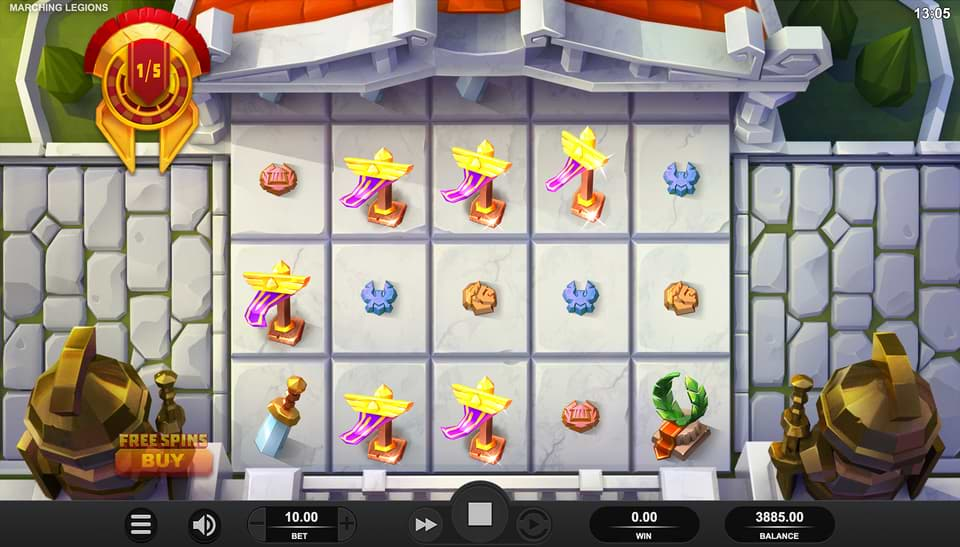 supervisor_account
29
people are currently playing this game
wallpaper

play_circle_outline
Where can I play to
Marching Legions
?
GAME TEST / Marching Legions
event_note Published on 07 Apr 2023
created Updated 07 Apr 2023
person By Sophie Couard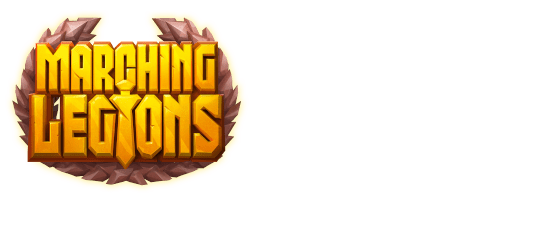 Marching Legions slot takes you back to the scenery of ancient Rome. Enjoy playing with animated marching soldiers and you'll have a chance to get free-spins by successfully gaining enough soldiers when reaching the end of the board. The game features fun graphics and great soundtracks that usually come from epic Roman movies. Developed by Relax Gaming, it's one of their new-bold offerings. Marching Legions slot has a very user-friendly control panel, which allows you to spin quickly and easily.

Marching Legions is a lovely historical Ancient Roman-themed slot. In this beautifully crafted environment, you click a button to easily set your stake anywhere from 0.10 to 100.00 credit per spin. There are also fast play and automatic spin options, which let you change things up a bit. During our Marching Legions Slot Review, we discovered that the game offers numerous opportunities to win very high stakes. Marching Legions can be played on either your personal computer or your mobile device.
Slot name: Marching Legions
Developer: Relax Gaming
Released: July, 2020
RTP: 98.12%
Jackpot/maximum win: 10,000x
If you're looking for an online slots machines game, this is the perfect place.
Marching Legions Technical Features
The Marching Legions slot layout is a five-reel and three-row grid of symbols cleverly woven into the stonework road background. To win, you need to land three or more matching symbols across the reels from the left hand side. There are also 243 pay lines and your earnings are determined by the amount you bet and the matches you are able to secure for the different symbols - either two, three, four or five.
This Marching Legion review found that there's a minimum bet of 0.10 credits and a maximum bet of 100 credits. The amount you can win depends on the matching symbols obtained after a spin. Matching any of seven different symbols, you can win. Matching five legionnaire symbols earns you 2.5 times 100 credits, which translates to 250 credit units gained as the maximum amount earned, compared to a bet of 0.10 credits, which earns you 2.5 times, resulting in 0.25 credit units.
Caesar worth x1 max
Eagleworth x1 max
Templeworth x1.2 max
Sword worth x2 max
Wreath worth x2.5 max
Banner worth x3 max
Legionnaire worth x2.5 max
Erik the Red is a delightfully entertaining online slot machine game with a captivating theme. Don't miss out!
Marching Legions Theme and Design
Marching Legions feels great to play. As you march your soldiers to the reels, thuds and slams are available there on the nudge feature-triggers. It has an entertaining gameplay and impressive design, with colourful themes and lovely animations. The symbols are expertly crafted and the 3D design is significantly advanced, and it also has a very pleasant soundtrack. On each side of these reels, legionnaires are set to march. Flag symbols reward up to 3 times your stake.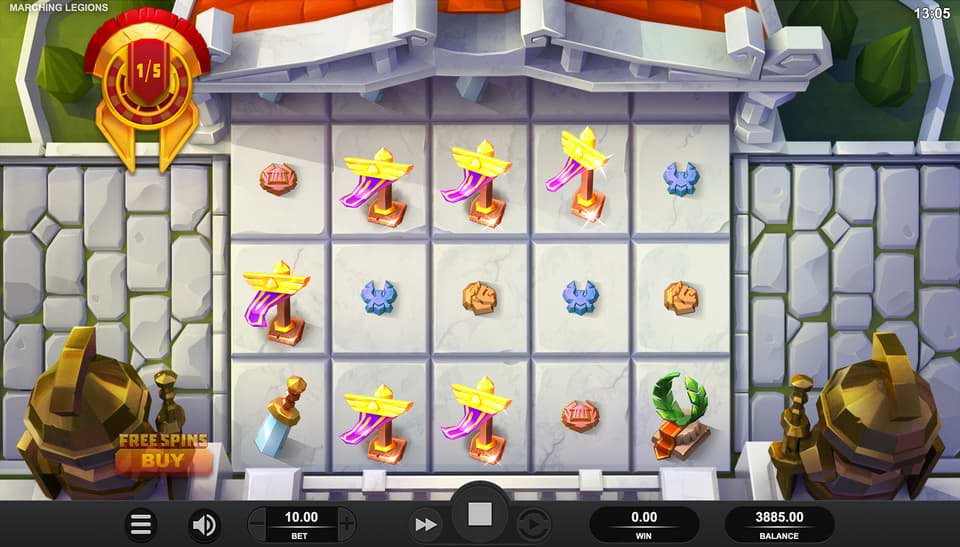 It has a lovely cartoony style, while you see with the revolving reels/columns set in a massive Ancient Roman courtyard. It is very visually stimulating, with the colours adapted intelligently, rendering beautiful graphics coupled with good music and sound effects. The symbols are also drawn just like a video game, and you have 3 high paying symbols, the legionnaires, and 3 low-paying symbols. Marching Legions' RTP is 98.12%, making this quite a potentially lucrative offer for you with high returns.
Marching Legions Bonuses
Free spins
This is a high volatility slot, but you don't have to worry about that during the free spins. The free spins are activated when you fill the meter located in the left corner - or do it the easy way and buy a round of free spins. Then you will get free spins in waves, starting with a stack of soldiers completely covering the 5th reel and moving across to the left. For each progressive wave, an additional legionnaire stack is added.
Marching Free Spin
This is a common bonus feature related to a symbol of war. The symbol-of-war is the only image that can bring winnings from two pieces of spins. This symbol can appear on the playing field, completely covering the reel it appeared on. When this happens, you will receive a re-spin, during which stacks of warriors will move one position to the left until you leave the field of play. It therefore increases your chances of maximizing your stakes.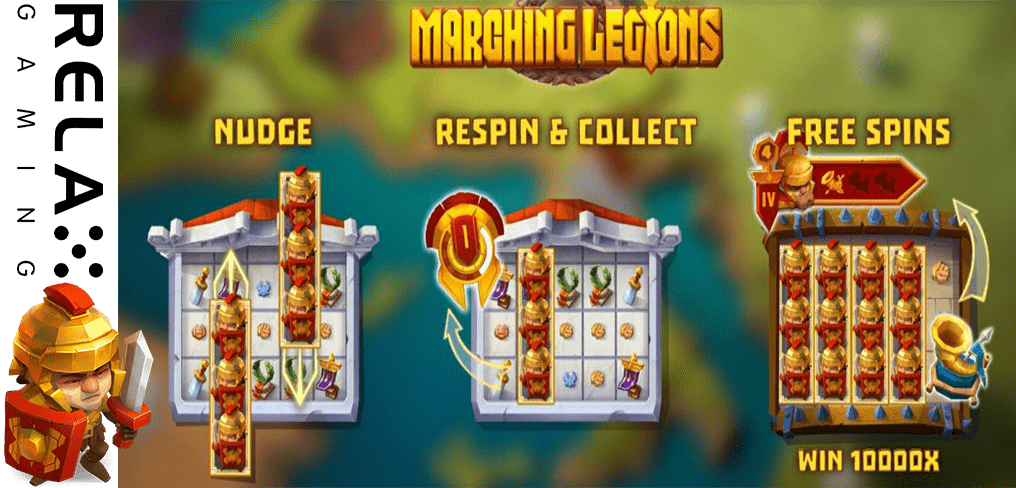 Conclusion and Verdict
Marching Legion Slot at most casinos involves exciting and captivating gameplay with so many options to maximize your winnings. It is a game that revolves majorly around one symbol – the legionnaire (and the horn during free spins, of course). There are also other symbols with which you can earn credits, and great bonuses offered. The beautiful scenery and engaging animation, modern 3D design, and great sound effects make the game a true joy to play.
The high return of 98.12% and maximum jackpot of 10,000x your stake are other great incentives to encourage you while playing. Youths and older adults are sure to find the game a pleasure to engage in. Marching Legions Slot is developed by Relax Gaming, which is a tested and trusted expert in online slot gaming. The technology provides easy and enjoyable gameplay on mobile devices and not just a desktop computer - it will be quite a rewarding experience to play.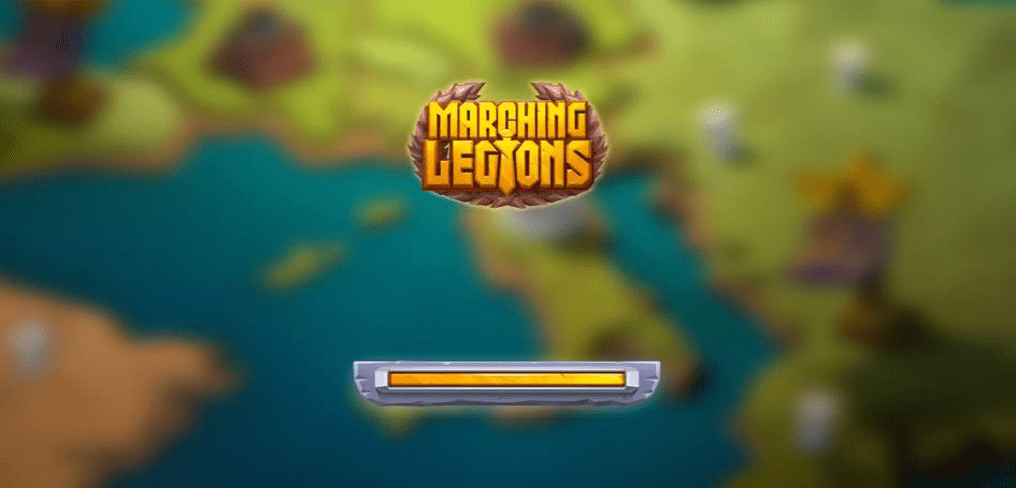 Play now!
Give it a go! The Great Pigsby is an exciting online slot machine filled with tons of fun and cool features.
Players who like Marching Legions also play at :