New Immortal Romance Remastered Slot Review - May 21, 2020
Mobile and online Game review - Microgaming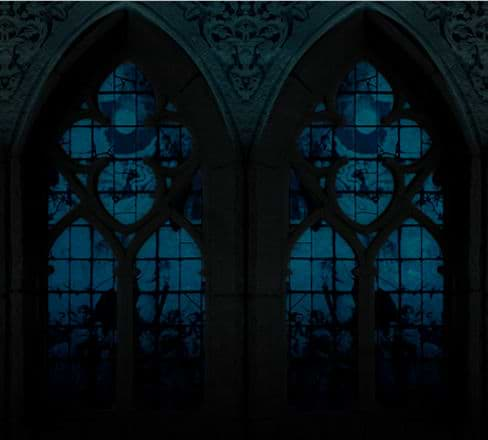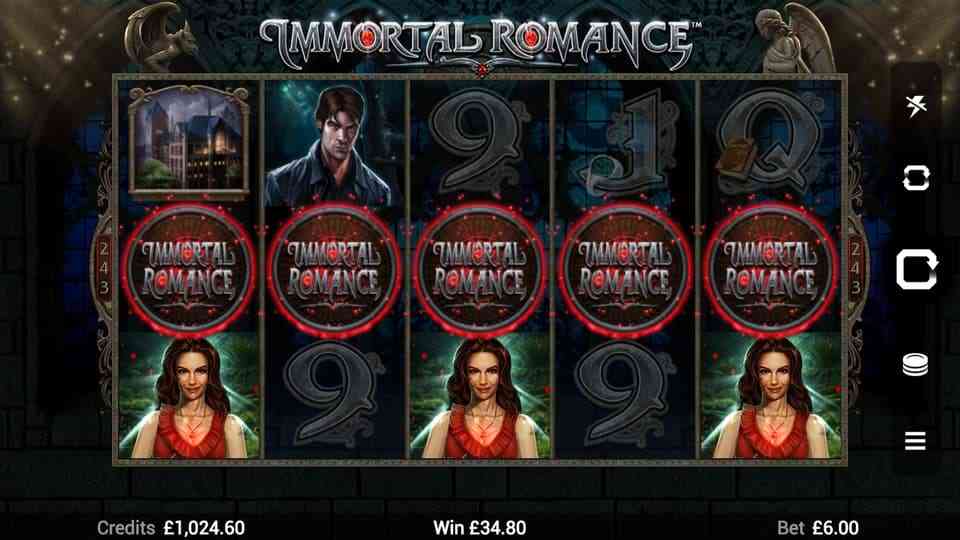 supervisor_account
30
people are currently playing this game
wallpaper

GAME TEST / Immortal Romance Remastered
event_note Published on 07 Apr 2023
created Updated 07 Apr 2023
person By Sophie Couard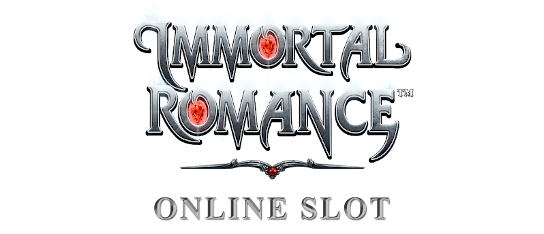 For fans of slots, there is nothing quite like when a company decides to release a new version of a much-loved classic. Nine years ago, Microgaming released the original version of Immortal Romance, which was an instant hit amongst slot fans. In May 2020, Microgaming has brought back Immortal Romance as a new slot under the name Immortal Romance Remastered. In this article, we will sink our teeth into Microgaming's revamped version of their iconic vampire-themed slot.

The first Immortal Romance was hugely popular due to its spooky ambience, great graphics, and innovative gameplay. One of the main attractions of the original game was that you could choose to play as one of four characters, each with their own detailed backstory. We are pleased to say that Microgaming has managed to keep faithful to the spirit of the hit game. Keep reading this slot review to discover the new twists that Immortal Romance Remastered has to offer!
Slot name: Immortal Romance Remastered
Developer: Microgaming
Released: May, 2020
RTP: 96.86%
Jackpot/maximum win: 12,000x payout
Want to take a break? You can find tons of online slots machines games here.
Immortal Romance Remastered Technical Features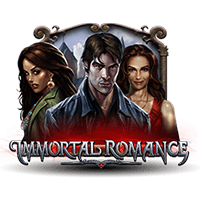 Immortal Romance Remastered certainly doesn't hide in the shadows when it comes to technical features. Microgaming have stayed reasonably true to their original game and kept the same RTP and volatility. The new version has the same medium volatility, a high hit rate of 31.21%, and a better than average 96.86% RTP. Immortal Romance Remastered has the standard 5 reels, 3 row grid setup but the game also features an impressive 243 paylines.
Unlike the original, Immortal Romance Remastered has upped the maximum bet to 30 coins. Players can start on demo mode or with just 1 coin, which makes it an attractive game for both high and low rollers. But beware! Immortal Romance Remastered uses the 243 Ways to Win system and is most certainly a high variance game that is big on excitement. With a 12,000x payout, Immortal Romance Remastered can easily turn a small wager into a very big win indeed.
Wild - 5 symbols pay 1500
Scatter - 5 symbols pay 200x
Sarah - 5 symbols pay 500
Michael - 5 symbols pay 450
Mega Moolah offers a lot of great features, so we recommend it to anyone who is looking for a new slot game.
Immortal Romance Remastered Theme and Design
When it was first released, the original Immortal Romance was launched amidst a frenzy of vampire books and movies in popular culture. The game's storyline revolves around four characters - Sarah, Michael, Troy, and Amber, and is set in an eerie Gothic-styled mansion. The story involves romantic involvements between the two male characters and the two female characters, with plenty of detail to dig into. Just clicking on a player can reveal their quite detailed backstory.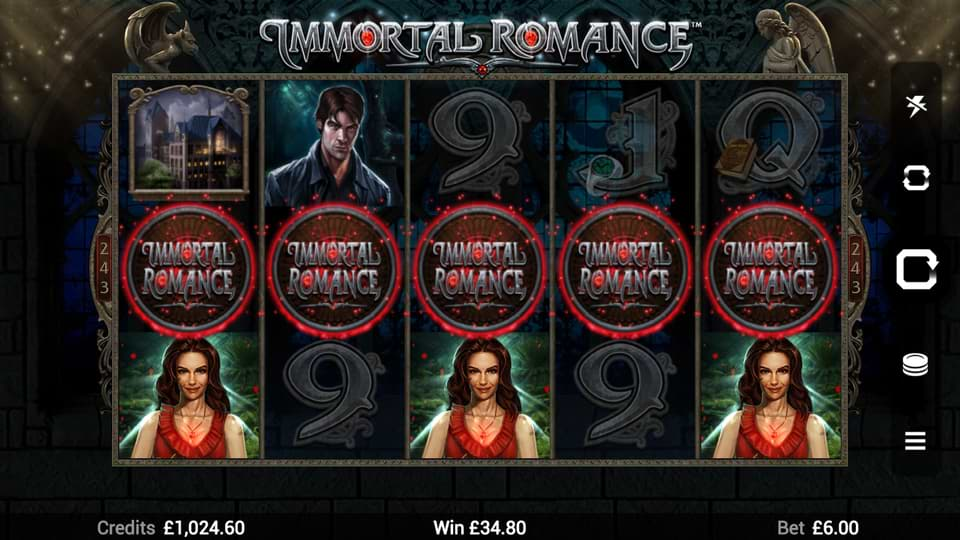 Microgaming know the original was a big hit because of its amazing sound effects and captivating graphics. The company has included all the graphic and audio features players loved about the first version but have boosted everything to the modern HTML5 format. Bright blood on stone tiles, gnarly gargoyles, and howling wolves all add to the overall ambience. This gives Immortal Romance Remastered a depth of experience for players that few other games can match.
Immortal Romance Remastered Bonus Features
Logo Bonus
One of the selling points of Immortal Romance Remastered is the massive amounts of bonuses available throughout the game. One of the bonuses players may encounter is the Logo Bonus. Once the Logo appears in the reels, it represents the Wild and replaces all the other icons, except for the Scatter, to create winning formations. The Logo Bonus may also activate the Wild Desire feature, which converts some or all reels into Wilds, giving players the chance to win 12,000x their bet.
The Chamber Of Spins Bonus
The Chamber Of Spins Bonus starts with 10 free spins, with any win attracting a 5x multiplier. From there, players progress to 15 free spins with a Vampire Bats feature where symbols can randomly transform up to 6x multipliers. The Chamber of Spins continues with 20 free spins plus a rolling reels. The last part of this bonus awards a player 25 free spins and a Wild Vine feature that can turn any symbol into extra Wilds.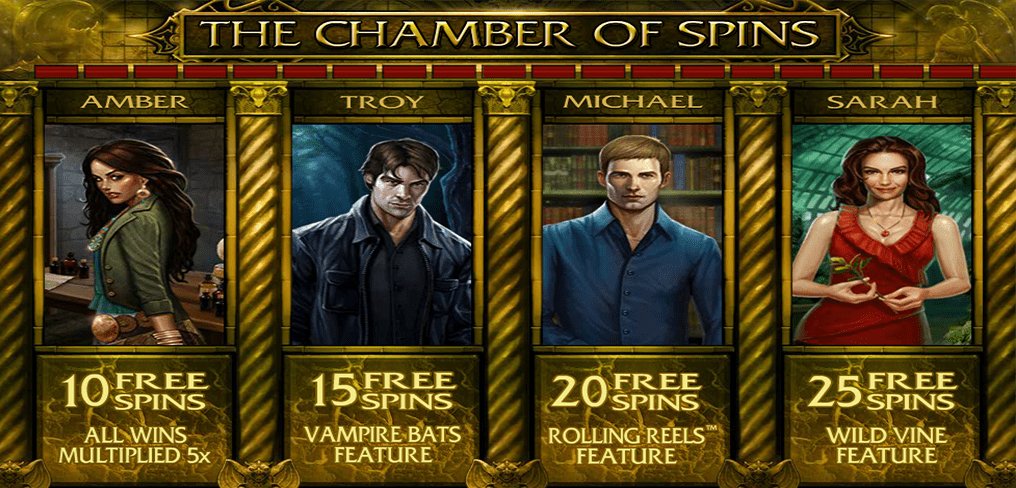 Conclusion and Verdict
So, should you sink your fangs into Immortal Romance Remastered? If you love vampires and spooky castles, high stakes, big action, and adrenaline pumped slots, then you will adore Immortal Romance Remastered. The rich storyline and incredible graphics and audio are also very appealing, and the wide array of bonuses are enticing, that is for sure. It would be easy to turn even a very small wager into a massive payday on this game!
These intricate details of the original Immortal Romance were way ahead of the pack at the time and many slots players have been anxiously waiting for the game to upgraded or for a sequel. In our view, Immortal Romance Remastered should not leave any fan of the first game dissatisfied and should definitely bring more players under its spell. Microgaming had a massive hit nine years ago, will they repeat that success? With Immortal Romance Remastered they stand a good chance!

Play now!
This is a really good slot game. You should definitely read Oink Country Love review and try out the game!
Players who like Immortal Romance Remastered also play at :