Dungeon Immortal Evil Slot by EvoPlay 2023 Review
Mobile and online Game review - Evoplay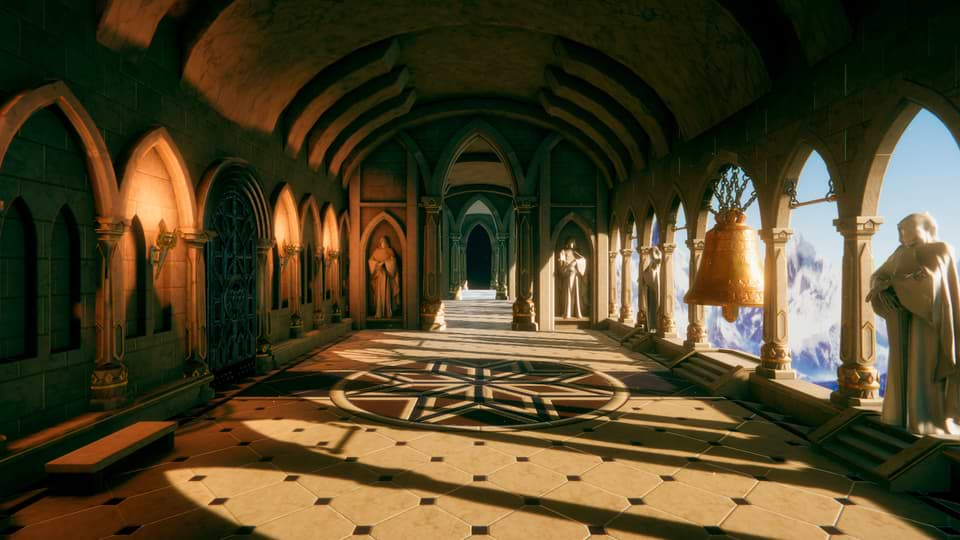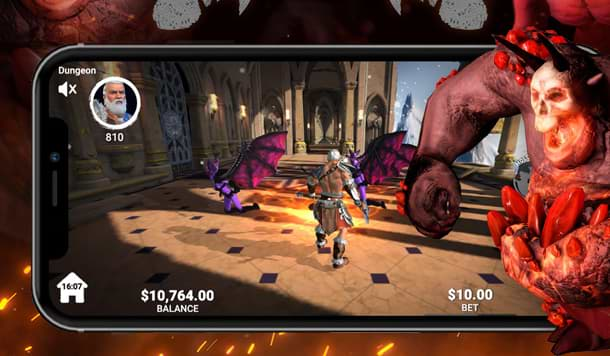 supervisor_account
20
people are currently playing this game
wallpaper

play_circle_outline
Where can I play to
Dungeon Immortal Evil Slot
?
GAME TEST / Dungeon Immortal Evil Slot
event_note Published on 13 Apr 2023
created Updated 13 Apr 2023
person By Sophie Couard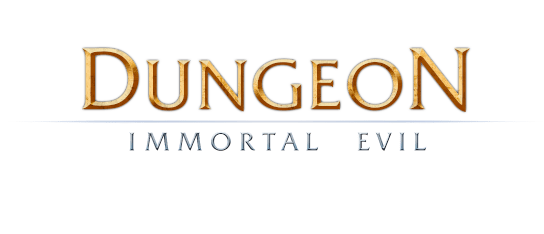 Dungeon Immortal Evil Slot brings cutting-edge RPG action and design to mobile slots
Dungeon Immortal Evil is a slot like no other.
This isn't something you can say very often in a world where most developers seem hell-bent on churning out the same rehashed concepts like ancient Egypt and Mayan rainforests.
Indeed, Dungeon Immortal Evil is one-of-a-kind, because it's the first of its kind. With this game, EvoPlay has broken new ground. We're talking about the world's first-ever RPG slot game.
And if you're wondering what that means, or how it's possible, you're not alone. Because we're looking at something so innovative, it's hard to begin to describe it.
Years from now, we may be looking back on this release as a benchmark in slot design.
If you like online casino games, we have a whole bunch of slot machines for you! Take a peek, you're sure to find something to suit your taste!
| | |
| --- | --- |
| Slot type | RPG-inspired video slot |
| Developer | EvoPlay Entertainment |
| Volatility | Medium-high |
| RTP | 96.2% |
Are you a fan of Evoplay software games? Then you should come and take to the sea with the Sea Of Spins Slot machine
In terms of gameplay and design, Dungeon takes us back to classic RPG video games. Players who grew up with consoles and computer games like Diablo and World of Warcraft will find themselves right at home in the world of Dungeon. It comes complete with a storyline, hack-and-slash combat and immersive action.
On the other hand, it's important to keep in mind that the slot mechanics are quite simple. The game has a one-line, five-slot design. And the slots don't technically spin. So die-hard fans of classic slots that bring the fruit-machine experience to online casinos might find it too different, yet not enough of a change.
Read our full-length review of EvoPlay to learn more about the developer and its games.
Unprecedented gameplay
The gaming experience of Dungeon is so close to an RPG that it's hard to believe it's actually a video slot.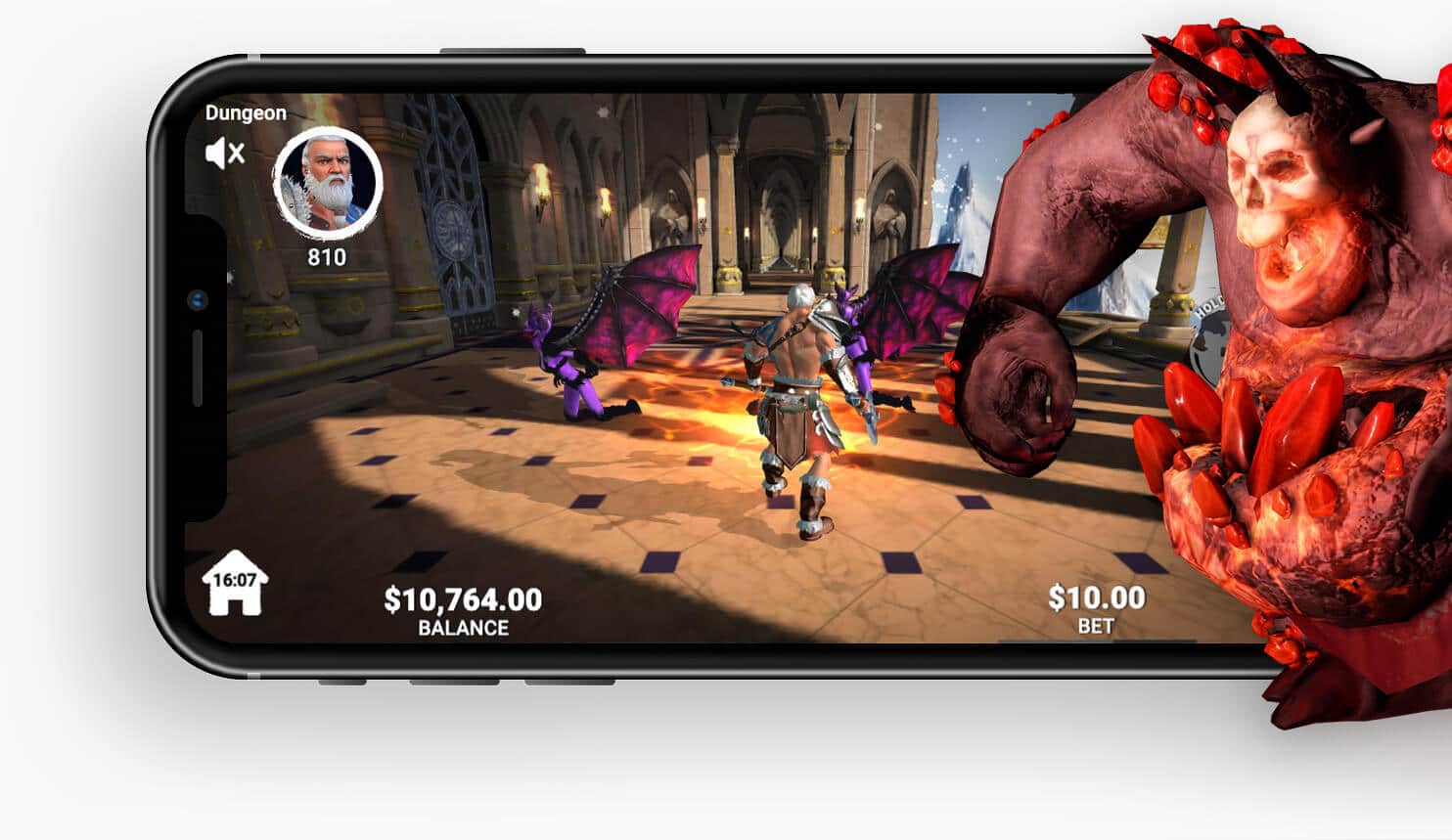 Instead of spinning the slots, players advance through different rooms and do battle with groups of evil creatures. Every enemy you slay yields loot, which comes in different types. The loot are the slot symbols. Each enemy has a different multiplier that applies to the symbol, and the results of the fights affect the value of the wins.
The different loot types are:
Legendary
Epic<
Rare
Uncommon
Common<
One of the most interesting aspects of the game is that it changes depending on how you play it. If you play in turbo mode, by double-clicking the spin button, the character will jump through the rooms and leap-attack the bad guys. This means that you don't just get a higher pace of play, but a more action-packed one as well. We're well beyond simple slots that just spin faster when you want to rush through it.
What's most interesting is how the game has been mobile-optimised. When you play the game on a mobile device, you can swipe across the screen to cause the hero to charge, just like in some of the most popular mobile app games.
Every aspect of the game varies depending on how you want to play it.
It's important to keep in mind that, although the action is based on RPGs, the game itself continues to be a slot machine. That means that the results are produced by a random number generator, with a 96.2% RTP and medium-high volatility. Games and losses are completely random, as are the bonus achievements.
And this is where it can be slightly disappointing. If you enjoy complex slots mechanics and are less interested in concept and design, Dungeon might not be the right game for you. Having just one line and five reels means it doesn't have the level of complexity many players have come to expect, and it's a long way from something like a Megaways™ slot.
Are you looking for more online casino games from Evoplay software? Then the following slot is for you! Go on adventure with the VR Necromancer Slot
Cutting-edge design
It's possible we've come to take for granted the crisp colours, bright design and smooth animation that have been the hallmark of RPGs since the early 2000s. By bringing them into the realm of slots, EvoPlay is setting a new standard for the industry. They're also proving how far they've come since the release of their first 3D slot, Necromancer.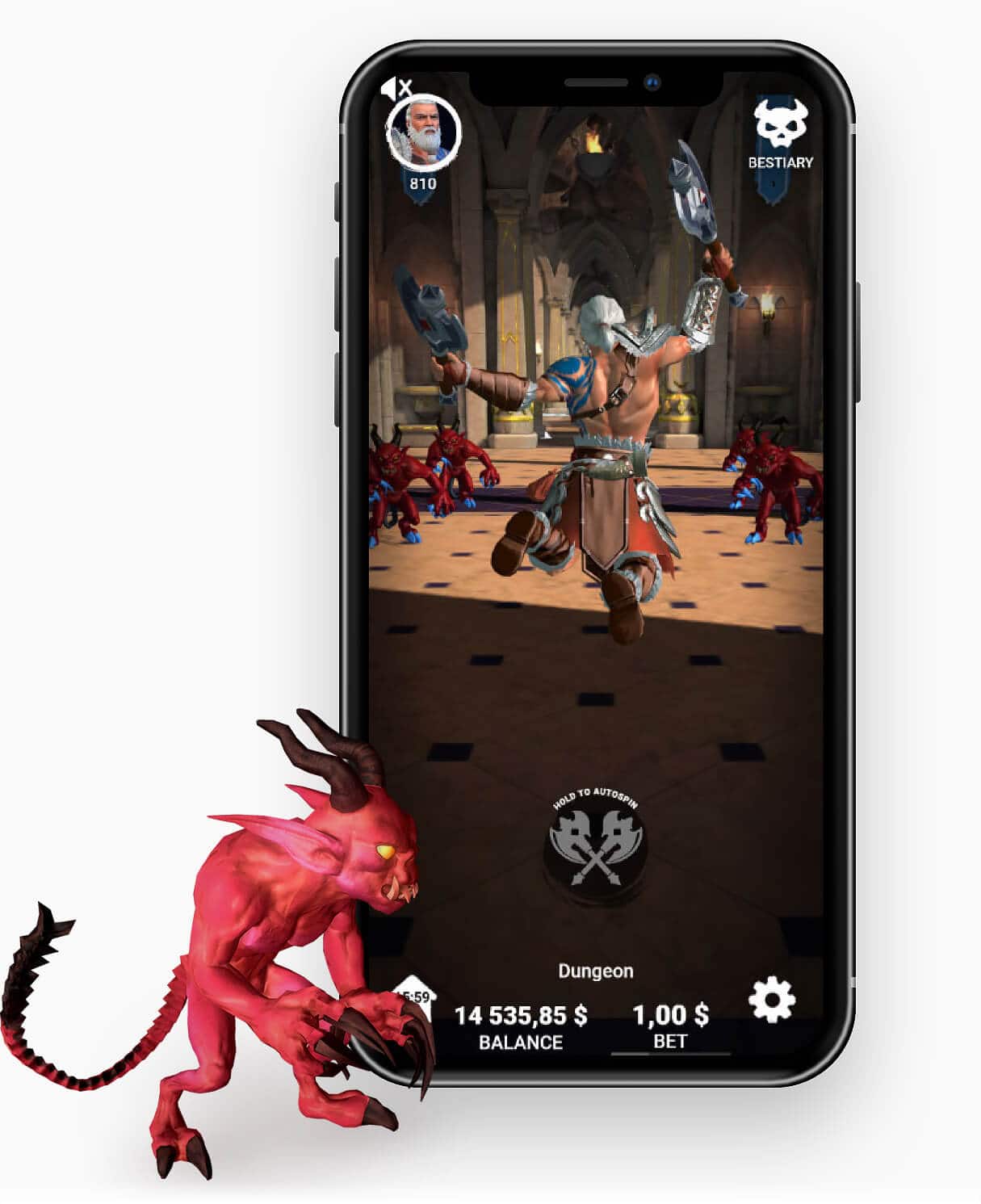 Then there's the storyline, which stands apart from those of slots with fantastic or historical themes, because the spins (i.e., the combat) actually take you through the story itself.
The storyline isn't just an excuse for the design: it's crucial to the very concept of the game.
The hero of the game must combat to free his world from the evil forces that have taken it over. You control the hero as he charges through the vast halls of a majestic temple on the peak of a snowy mountain. Every time you enter a room, a random arrangement of monsters and demons appear to fight you.
The hero's health and equipment upgrades affect the results.
Every once in a while, random events will trigger cinematic cut sequences that enhance the storyline and give you a broader perspective over the world of the game. Of course, it's also a good chance for the developers to show off their breakthrough design.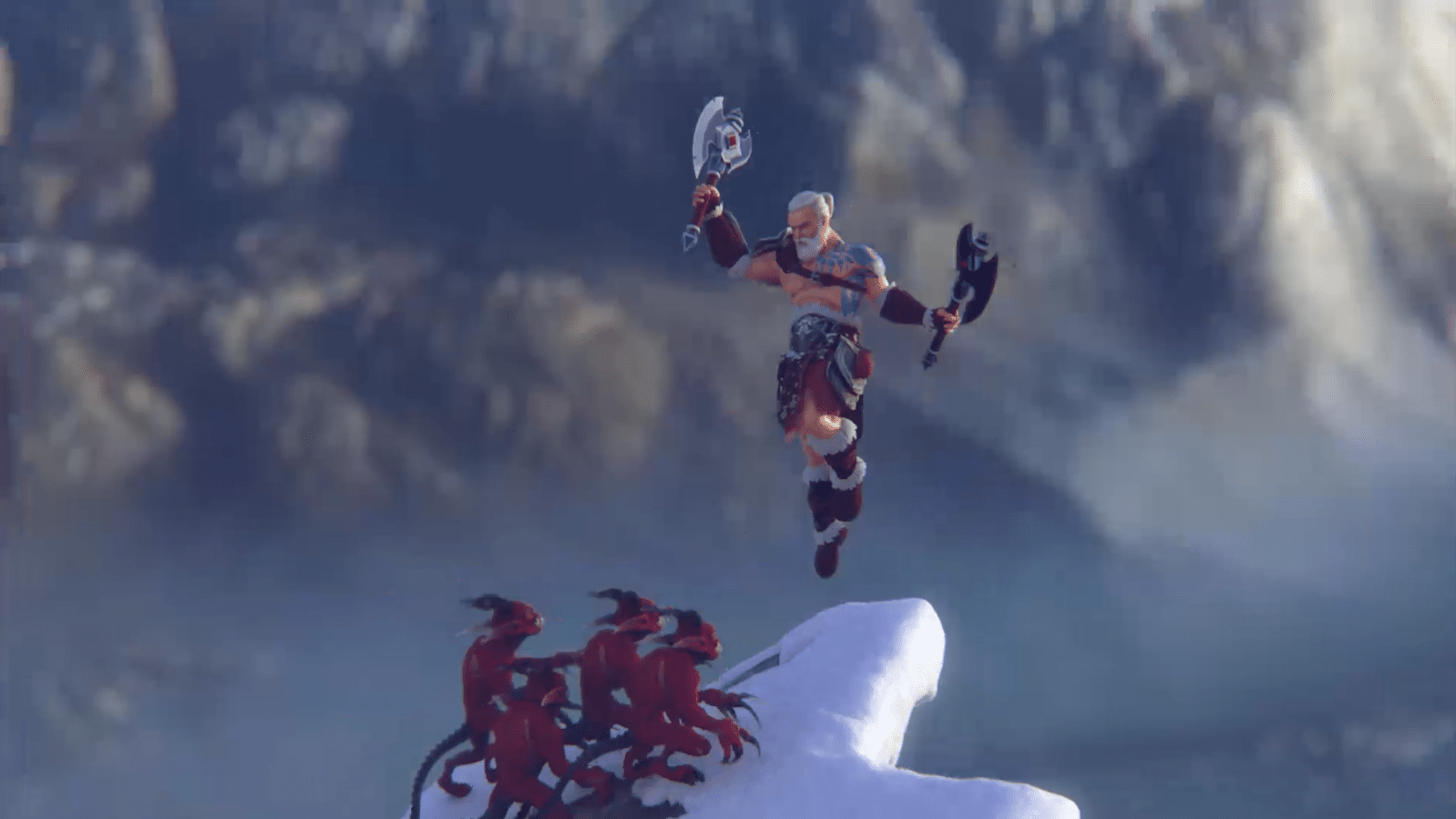 Game features
Dungeon is chock-full of features, random events, bonuses and treats based on RPG elements that will speak to long-time fans of the genre.
Some of these are weapons and armour upgrades. Others are chests full of mystery loot. But watch out: some chests are enemies in disguise! Indeed, the game misses no chance to excite you with action and narrative.
Complex fights with special bad guys bring bigger chances for big wins.
The most interesting of these is the teleportation into the dungeon of the final boss. To get to it, you must make it through seven different monster-filled rooms and bonus chests. And I know I'll want to keep fighting on until I get a chance to take it down!
Players who like Dungeon Immortal Evil Slot also play at :